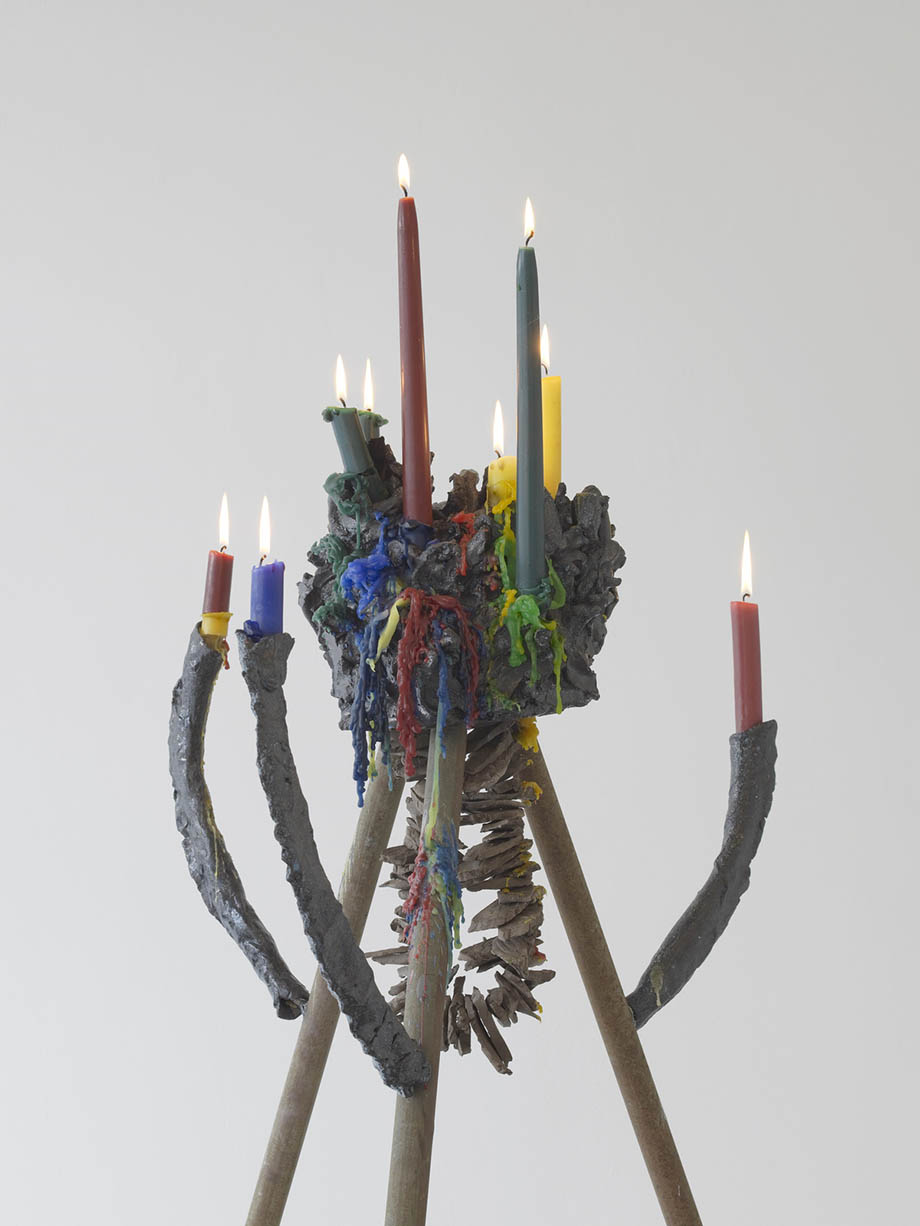 MIMA presents Italian artist Chiara Camoni's first UK solo exhibition through the display of a new acquisition, showing from 8 January to 10 February 2019.
MIMA has acquired three large sculptures from Camoni's most recent series Sisters (iron, glazed clay, candles, fire, 2017) with support from the first edition of the Contemporary Art Society's Jackson Tang Ceramic Award. This purchase makes the Middlesbrough Collection the UK's first public collection to acquire Camoni's work.
Sister1, Sister3 and Sister4 are glazed clay forms with multi-coloured candles that are lit during the works' display, with the subsequent dripping wax forming part of the piece. They will be shown for one month, during which time different individuals and groups who represent MIMA's constituents and communities will light the candles in a daily event. This activation of the sculptures resonates with historic and contemporary traditions of celebrating light at the darkest and coldest time of year.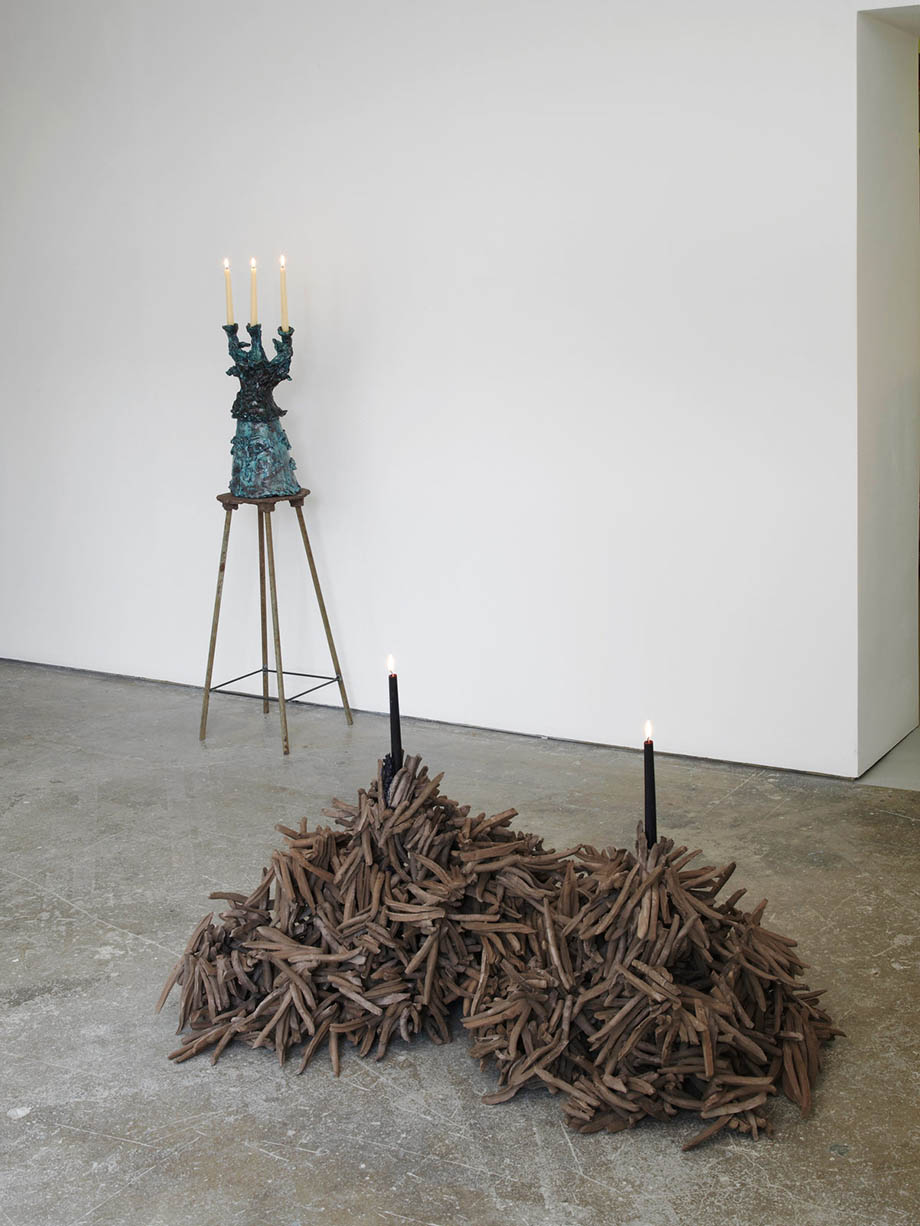 Camoni (b.1974, Piacenza, Italy) studied Sculpture at Brera Academy of Fine Arts, Milan. She lives and works in Fabiano, in Tuscany's Versilia Hills. Camoni's is a distinctly feminist practice. Quiet, conversational, and collaborative, it embodies important values and approaches that speak to MIMA's recent focus on social and collaborative practices.
Camoni collaborates with those outside of the traditional frame of art through an expanded studio practice that involves working at the kitchen table, or in the garden, with people from her village. She makes through conversation and new conversations are created through the making process. Sistersare positioned simultaneously as sculptures and as events. Their forms shift whilst they are shown, marking the movement of time, through the accumulation of wax. They play with questions of function, sitting between statuettes and candelabras.
This approach resonates with the practices and processes behind many of the Middlesbrough Collection's ceramics and jewellery holdings which come from explorations of the politics of materials, learning through making and in many cases a dynamic relationship with the maker and user or wearer of the work.
This trio of works is about relationships. Relationships to clay and via clay, to the land. Relationships between the elements of the sculptures and between each of the three sculptures. Relationships between Camoni and her informal collaborators; those in her village who make the work with her. Relationships between Camoni and the audience, and now relationships between those who will light the works and between those people and MIMA.
MIMA has become internationally known for its innovative approach to programming and commissioning with a civic agenda and for working with constituents – people from all walks of life – who actively shape projects with the team. This way of working democratizes the spaces of art, develops strong relationships between the Middlesbrough Collection and broad audiences and raises important questions for the sector around authorship, ownership and value.
ABOUT CONTEMPORARY ART SOCIETY
The Contemporary Art Society champions the collecting of outstanding contemporary art and craft in the UK. Since 1910 the charity has donated thousands of works by living artists to museums, including the first works by Picasso, Matisse, Bacon, Hepworth, Caro, Antony Gormley and Damien Hirst to enter UK public collections. More recent acquisitions have included works by 2016 Turner Prize winner Helen Marten in 2012, Phyllida Barlow in the same year and in 2016 the first works by Glenn Brown and Kader Attia to enter a UK museum collection. Sitting at the heart of cultural life in the UK, the Contemporary Art Society brokers philanthropic support for the benefit of museums and their audiences across the entire country. Their work ensures that the story of art continues to be told now and for future generations. www.contemporaryartsociety.org
ABOUT CHIARA CAMONI
After graduating from the Brera Academy of Fine Arts in Milan, Chiara Camoni (b.1974, Piecenza, IT) worked at the Institute of Natural Sciences in Naples for many years. She is a founding member of the MAGra Contemporary Art Museum of Granara, IT and the Vladivostok group. She lives and works in Fabiano, in Tuscany's Versilia Hills, IT.
Recent solo shows include: Barricata, curated by Francesca Pasini, Libreria delle Donne, Milan (2016); The story always comes later, SpazioA, Pistoia, (2016); Il Grande Baccano, Chiara Camoni and 763 children, curated by Marcello Smarrelli, Pinacoteca Civica B. Malajoli, Fabriano (2016); Gli immediati dintorni, curated by Cecilia Canziani and Ilaria Gianni, Nomas Foundation, Rome (2016). Recent group exhibitions include: Anachronikos, curated by Ula Tornau and Asta Vaiciulyte, CAC – Contemporary Art Centre, Vilnius (2016); XXI Triennale international exhibition, W. Women in Design, curated by Silvana Annicchiarico, Triennale, Milan (2016); Dall'oggi al domani, curated by Antonella Sbrilli and Maria Grazia Tolomeo, MACRO – Museum of Contemporary Art of Rome, Rome (2016); VX30 Chaotic Passion, curated by Anna Lovecchio and CHAN, Villa Croce – Museum of Contemporary Art, Genoa (2015-16). Chiara Camoni is represented by Arcade Gallery in the UK.
ABOUT MIDDLESBROUGH INSTITUTE OF MODERN ART
Middlesbrough Institute of Modern Art (MIMA), has a civic agenda to connect art, society and our changing world. Part of Teesside University, it is a useful museum.Its programmes encompass urgent themes such as housing, migration, inequality, regeneration, and healthcare. Changing exhibitions, collection displays, learning activities, projects, and community-focused initiatives involve many artists and publics. These programmes promote creativity for everyone in ordinary life, through education, activism and making. Relationships with constituencies in Middlesbrough and beyond shape the institution as a public site, open and accessible, diverse and inclusive, and used by all. mima.art
Sally Pearson
Communications Manager
01642 046982
07914 324258
mima.art
Twitter mimauseful
Instagram mimauseful
Facebook mimauseful
Editor's Note:
Middlesbrough Institute of Modern Art is part of Teesside University. It plays a key role in the cultural ecology of North East England, particularly Teesside, and is internationally recognised for its mission. Its programme includes Middlesbrough Collection displays, exhibitions, learning activities, commissions, community-focused projects and events. It is funded by Arts Council England and Middlesbrough Council.
For further information, please contact: Sally Pearson M: 07914 324258 or 01642 046982, E: s.pearson@tees.ac.uk