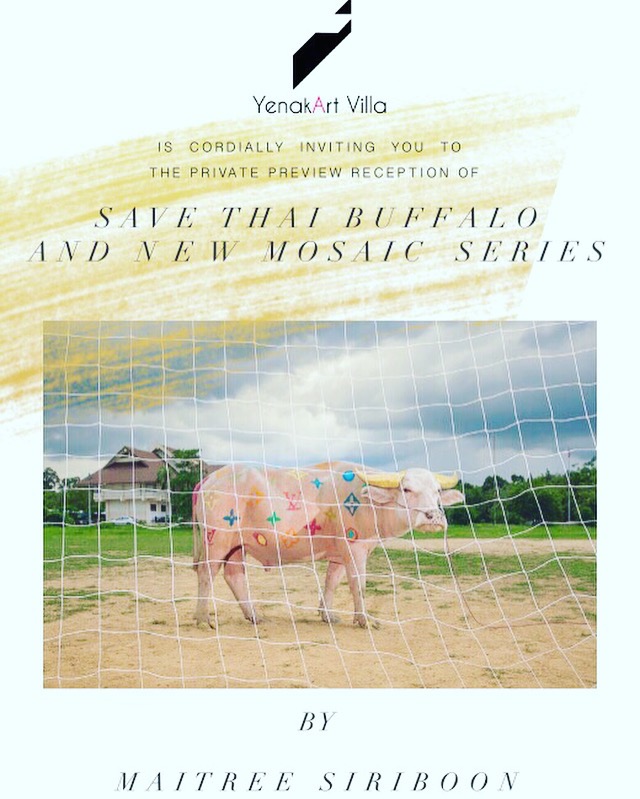 Save Thai Buffalo & New Mosaic Series
OPENING PARTY:

9th July 2016

.

6.30pm
Exhibition will run from

30 June – 15 August

 
at 
YenakArt Villa Art Gallery
==About the exhibition==
For celebrating his first year of existance, YenakArt Villa is presenting the full series of 10 photographies from the series Save Thai Buffalo by Maitree Siriboon. Most of the photos have never been shown before.
The series is featuring the albino buffalo Maitree Siriboon is raising in his home-town, painted with the natural colors used in India for the sacred cows, underlining, with a strong sense of humor, that the buffalo is playing a new "decorative" role in contemporary Thailand.
This series is paying tribute to the buffalo, which helped build Thailand into a rice-farming nation, and therefore into the modern nation it is today. But now, regrets Maitree, you hardly see buffaloes working in rice-fields. On each photo, the painting on the buffalo is inspired by a famous modern artwork or artist that Maitree preferred when visiting the western museums expressing the "cultural shock" he had when he came back to his village after his first long trip to Europe.
In addition to the full series of Save THAI Buffalo photos, Maitree Siriboon will exhibit his newest mosaic artworks and especially one of very big size, the Isann Tree (450x300cm).
==About the artist==
Maitree Siriboon was born in Ubon Ratchatani Province, Northeastern Thailand, fondly known as the Isan region. He moved to the bright lights of Bangkok at the age of fifteen to study, first at the College of Fine Art and later at Silpakorn University where he received his bachelor's degree in fine art.
His early work was influenced by the colourful Thai temple mirror mosaic style, and by expressing his half-forgotten snapshots of rural Isan childhood life, an imagery which permeates his art. His art is a sparkling two-dimensional texture filled with scenes of rural life: of rice paddies and traditional scenes, of water buffaloes and a simple life.
He is a recipient of numerous awards, among them the Bualuang Award in 2006 awarded by the Bangkok Bank Foundation. He later moved to photography through collaboration with photographers. His first photo series, Isan Boy Dream (2008) involved his foreign friends living in Bangkok traveling to the artist's village in Isan. His theme was of creating a creative space for people of different backgrounds to express themselves, to see how cultural backgrounds and environment inform and shape the way we think. His later photo series, Isan Boy Soi 4 (2009) explores the idealized fashion of a rural youth transplanted to a dazzling cosmopolitan city. This series sought to explore the artist's self-identity since moving to Bangkok in 1999, expressing how a village boy from Isan related to the melting pot that is Bangkok's Silom Soi 4.
His latest photo series looks in to the water buffalo, an iconic animal in the region. With the buffaloes losing their position as indispensable workhorse in Thailand, they are now transformed in to comics of the modern age: used as decoration, food and entertainment. He decided to reinvent the buffalo in to a performance art, encouraging interaction during the production of the series and rekindling the close relationship that once was. Maitree's work has been shown all around Southeast Asia, and beyond to Brazil, the United States, Japan, France, China, Italy, the United Kingdom and the Netherlands. His exhibitions include The 4th Guangzhou Triennial in 2011, Photo Quai (The 3rd Biennial exhibition of the world Images) in 2011 and Art Stage Singapore 2012 and 2013.