ArtBangkok.com 

RATE CARD
info. date 2021/01/01

MEDIA PROFILE

ArtBangkok.com is Thailand's No. 1 Contemporary Art & Creative Design and Entertainment Website, supported by the Office of Contemporary Art and Culture (Ministry of Culture).  Founded in 2002 by Wannasiri Srivarathanabul, ArtBangkok.com was formally launched in August 16th, 2006  as a PUBLIC ART MEDIA for Contemporary Arts, Creative Design and Entertainment where art lovers can find updates on art & design  activities throughout the country as well as art venues, archives on artist & designer profiles, interview, knowledge, reviews  and movements.
ArtBangkok is also an art activist team that has been organizing contemporary art events and activities as well as a social contribution  art academics. These are some of our past events & activities;
* ArtBangkok Symposium 1 : Arts to enhance the thinking and minds of the mass
* ArtBangkok Symposium 2 : Influences of Thai films in Thai Society 
* ArtBangkok Symposium 3 : Democracy in Architecture

SCOPE of CONTENTS

ArtBangkok.com features all kinds of contemporary art including  Visual Art, Literature, Movie, Music, Performing Art, Architecture, Graphic design, Interior design, Fashion Design, Product Design and Culinary Art.
Not only updates on art & design  activities all over the country, we created archives and databases of Thailand's contemporary art & design community including ; Artist & Designer Profile, Interview, portfolio, article, knowledge as well as Art & Design directories such as; art venue, art school, art organization, art competition & awards, etc.

DAILY  

VIEWERS

STATS.

DAILY UIP:   9,073
DAILY PAGE LOADS:   33,373
FIRST TIME VISITORS:   3,190
RETURN VISITORS:  5,882

DEMOGRAPHIC  VIEWERS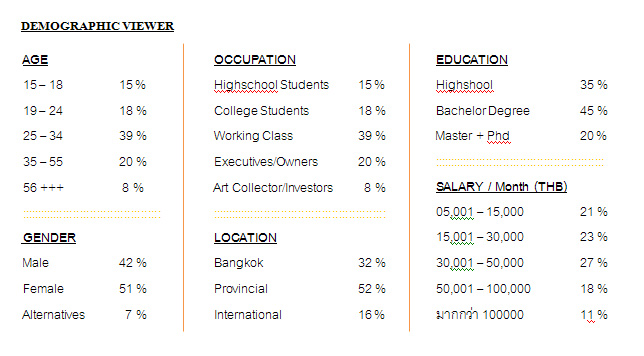 AD RATE for Website: ArtBangkok.com 

Advertorial Post + 1 Week Display on Feature Advertorial Area (Content Production, Rewriting and/or Copywriting fee are excluded)
Starting from 3,000 Baht/Post
Content Production + Advertorial Post + 1 Week Display on Feature Advertorial Area
Content includes: 1 Article (Thai/1-2A4) + 1-8 Photo (Photography services)
Starting from 25,000 Baht/Post
VDO Content Production + Advertorial Post + 1 Week Display on Feature Advertorial Area
VDO Content includes: 1 Clip (Thai/3-15Min) + Videography services  + 1 Article (Thai/1-2A4)
Starting from 40,000 Baht/Post
Right Banner + Linked to customer's website or page (Banner Design fee is excluded)
Starting from 3,000 Baht/Month
Contact for Advertisement : ArtMaster@ArtBangkok.com

    Tel. +66 84 3345353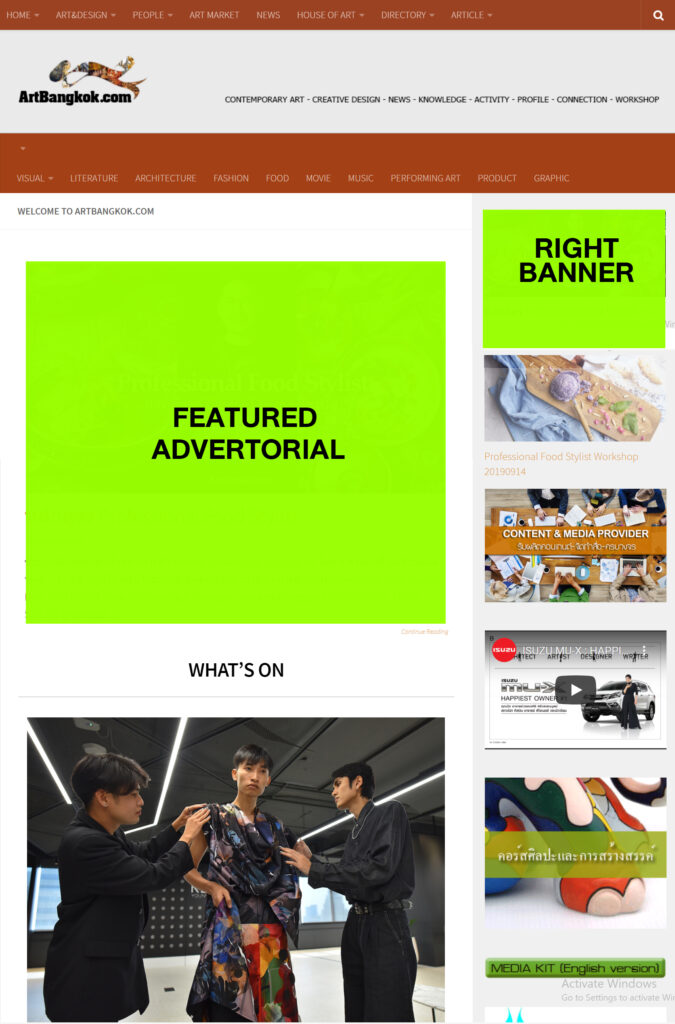 Date: 2021-01-01
Fan: 20,090
Followers: 20,347


2021 Ad Rate for FACEBOOK FANPAGE
Standard News & Event post: 1-4 pictures with captions (Rewriting and/or Copywriting fee are excluded) starting from 3,000 Baht/post
 Advertorial content post: 1-4 pictures with captions (Rewriting, Copywriting and/or Graphic Design fee are excluded) starting from 5,000 Baht/post
VDO content post  with captions  (VDO production, Rewriting, Copywriting and/or Graphic Design fee are excluded)  starting from 7,000 Baht/post