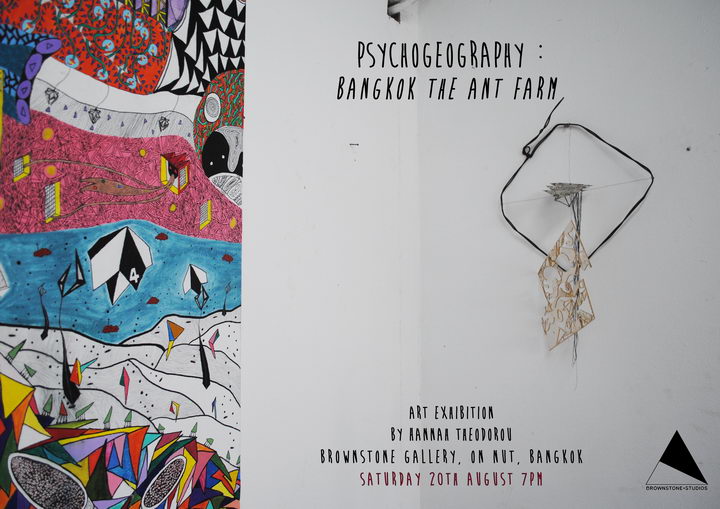 นิทรรศการศิลปะ: PsychoGeography : Bangkok the Ant Farm
PsychoGeography : Bangkok the Ant Farm เป็นนิทรรศการแสดงผลงานศิลปะของศิลปินชาวอังกฤษที่มีชื่อว่า Hannah Theodorou (แฮนนาห์ ธีโอโดรู) ในแนวคิดที่เกี่ยวกับการมีสติ
การตระหนักรู้ถึงภูมิประเทศ สถาปัตยกรรม สิ่งแวดล้อม วัฒนธรรม และมนุษย ์ของสถานที่แห่งหนึ่งในช่วง เวลาใดเวลาหนึ่ง ผ่านความรู้สึก อารมณ์ และสภาวะจิตใจของปัจเจกบุคคล โดยงานนี้จะจัดขึ้นที่ Brownstone Studio ในช่วงกลางเดือนสิงหาคม ต่อเนื่องเป็นเวลาหนึ่งเดือน
ที่มาของผลงานชิ้นนี้ เกิดจากการที่ Hannah เล่นกระดาษทายใจที่เขียนโดยคนแปลกหน้าที่เธอไม่เคยเจอมาก่อน ให้เธอไปเยี่ยมเยือนสถานที่ต่างๆในกรุงเทพ ซึ่งเธอก็ได้ทำตามคำแนะนำที่เขียนในกระดาษทายใจ หลังจากได้ไปตามสถานที่เหล่านั้น เธอนำประสบการณ์มาใช้เป็นแรงบันดาลใจในการสื่อถึงความรู้สึก อารมณ์ สภาวะจิตใจของเธอ ณ ช่วงเวลานั้น ถ่ายทอดออกมาเป็นผลงานศิลปะของเธอในนิทรรศการครั้งนี้
Psychogeography เป็นทฤษฎีเชิงสถาปัตยกรรมที่มีพื้นฐานมาจากแนวคิดของกลุ่มผู้นิยมอนาธิปไตยในปารีสในยุค 1960 ที่มีชื่อว่า The Situationist International ที่มีความคิดต่อต้านวัฒนธรรมมวลชน พวกเขาเชื่อว่าวัฒนธรรมและวิถีชีวิตของผู้คนในกรุงปารีสในขณะนั้น กำลังมุ่งหน้าไปยังทิศทางที่ห่างไกลจากจุดประสงค์ของการมีชีวิต และเป็นปรากฎการณ์ที่ทำให้ผู้คนประพฤติตนแตกต่างไปจากตัวตนที่แท้จริงของพวกเขา
Psychogeography เป็นเรื่องของการค้นหา และตระหนักรู้ถึงความเป็นปัจเจกของตนในสังคม Hannah พยายามที่จะเข้าใจและทำการทดลองว่าจิตวิญญาณของมนุษย์จะตอบสนองกับไอเดียนี้อย่างไร
จะทำความคุ้นเคยกับสิ่งแวดล้อมใหม่ๆอย่างไร และจะสามารถใช้ชีวิตในโลกความเป็นจริงในขณะที่จิตใต้สำนึกอยู่ในโลกแห่งจินตนาการได้อย่างไร
Hannah ได้ใช้ชีวิตอยู่ในกรุงเทพมาประมาณหนึ่งปี หลังจากที่ได้ใช้ชีวิตและท่องเที่ยวในเอเชียมาหลายปี เธอเรียนจบคณะสถาปัตยกรรมศาสตร์จากมหาวิทยาลัย Greenwich ประเทศอังกฤษ และเธอเริ่มวาดรูปมาตั้งแต่เด็ก นิทรรศการนี้เป็นนิทรรศการเดี่ยวครั้งที่สองของเธอ หลังจากที่เธอมีส่วนร่วมในนิทรรศการกลุ่มมาแล้วหลายครั้งทั้งในยุโรปและเอเชีย
สำหรับข้อมูลเพิ่มเติมเกี่ยวกับนิทรรศการ กรุณาติดต่อ
Hannah Theodorou – ht.theo92@gmail.com
รัฐพล ลิมธงชัย – Rathapol@gmail.com, 085 483 7675, Joe Delaney 0877030448 brownstonegallery@gmail.com
Brownstone Studios Presents;
PsychoGeography : Bangkok the Ant Farm
Art Exhibition
http://www.facebook.com/events/1255209944489215/
'PsychoGeography : Bangkok the Ant Farm', is an enigmatic, obscure and alluring art show based in Bangkok. The artist Hannah Theodorou is showcasing artwork at Brownstone Studios; a gallery intent on producing local abstract art. Pyscogeography is about understanding your place in space and time through orientation. The exhibition will take place in mid August and will continue for the duration of a month.
Hannah Theodorou's abstract series revolves around a project involving paper fortunetellers, which where written by strangers, giving the artist instructions on how to navigate the city. After spending many hours traversing Bangkok guided (and not guided) by others, the artist uses the inspiration and interaction to recreate parts of the journey through art. The drawings, paintings and sculptural pieces of this exhibition reflect the ideas of the artists place in her surroundings and state of mind specific to her life in Bangkok.
Psychogeography is an architectural theory based on the Parisian anarchist group the Situationist International who opposed mass produced culture, in the 1960. They believed the city was ebbing further away from the focus of everyday life and they felt Paris was becoming a spectacle to distract people from their everyday existence. Psychogeography is about understanding your place amongst the city, which is a living and breathing creature. The artist is trying to understand and experiment with how our psyche reacts to that, how we familiarise ourselves with new surroundings, how we can be present in reality yet in our mind be very far away form it?
Hannah has lived in Bangkok for over a year after travelling in Asia for the last few years. She studied architecture at Greenwich University and has been drawing and painting since she was a child. This is Hannah's second solo show the 1st being held at CHOMP The Comfort Cafe last year; she has also exhibited in group shows in Europe and Asia.
For further information about the exhibition please contact ht.theo92@gmail.com or the gallery at brownstonegallery@gmail.com (Joe Delaney)0877030448 or Rathapol@gmail.com, 085 483 7675.
Brownstone Studios is a Bangkok gallery supporting local artists. Their aim is to showcase Bangkok's large range of abstract modern art. The gallery is located 1395 Sukhumwit 77 Rd, (Near) Soi On Nut 25 Suan Luang, Bangkok, Thailand. There opening times are Monday to Sunday 10am to 10pm.