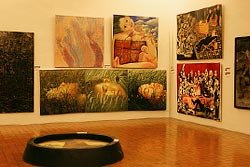 Housed in a former Royal Mint built during the reign of King Rama V, the National Gallery displays work by Thai artists from the 17th Century onwards. Inherited by the Department of Fine Arts in 1974,
it includes permanent exhibitions of works by King Rama VI and H.M. King Bhumibhol Adulyadej, traditional murals from early periods in the capital's history, and pioneering Thai modern art.
Particularly evident is the influence of Western schools of art, like impressionism and cubism, on recent Thai artists. There is also an area featuring temporary exhibitions of art from home and abroad, everything from painting and sculptures to prints and installations.
Opening Hours: 09:00 – 16:00 (Wednesday – Sunday)
Location: 4 Chao-Fa Road, opposite the National Theatre, Rattanakosin
Tel: +66 (0)2 282 2639
How to get there: How to get there: Taxi is the best way, although you can take the Chao Phraya Express Boat to Phra Athit Pier (N13), then walk back towards Phra Pin Klao Bridge, turn left at Chao Fah Road and continue walking for about 15 minutes and the museum should be on your left.