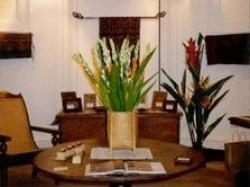 Located at the historic, neo-classical style Neilson Hays Library, the Rotunda Gallery is housed inside a compact, circular, domed room that used to be the entrance into the library.
The gallery has become a popular exhibition space for Thai and international artists. Monthly exhibitions showcase a wide range of artistic styles and forms, including photography, textiles, ceramics and paintings. Designed by Italian architect Mario Tamagno, the library and its splendid interiors alone are worth visiting.
Opening Hours: 09:30 – 16:00 (Tuesday – Sunday)
Location: Neilson Hays Library, 195 Suriwongse Road
MRT: Silom
BTS: Saladaeng
Tel: +66 (0)2 233 1731
How to get there: From either the BTS or MRT, the gallery is about 20 minutes walk down Surawong Road.