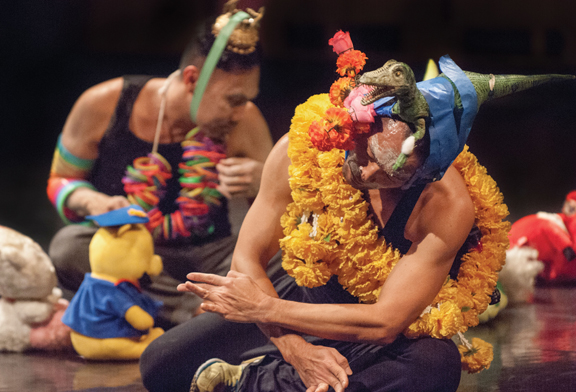 สมาคมฝรั่งเศสจัดการแสดง UNWRAPPING CULTURE โดย CO ERASGA / พิเชฐ กลั่นชื่น แดนซ์ คอมพานี Unwrapping Culture นำสุดยอดสองศิลปินชายมาพบกัน ได้แก่ อัลแวงน์ เอราสกา โตเลนติโน ลูกครึ่งชาวฟิลิปินส์-แคนาดา ซึ่งผลงานอันลุ่มลึกของเขาสะท้อนให้เห็นถึงอัตลักษณ์ส่วนตัวและอัตลักษณ์ทางวัฒนธรรม และ พิเชฐ กลั่นชื่น นักอนุรักษ์การเต้นโขนไทยผู้มีเอกลักษณ์โดดเด่นและเป็นที่รู้จักไปทั่วโลกในฐานะนักเต้นโขนในแนวร่วมสมัย การร่วมงานกันครั้งแรกของศิลปินคู่นี้เป็นการผสมผสานทางเทคนิค การแสดงละคร และองค์ประกอบการแสดงโขน โดยใช้วัตถุนิยมแบบสุดขั้วเป็นเครื่องมือเพื่อแสดงการวิพากษ์วิจารณ์อย่างถึงพริกถึงขิงต่อการคอรัปชั่นในวัฒนธรรมไทยที่เกิดจากแรงขับของการทำธุรกิจ ในรูปแบบเสียดสีเชิงตลกขบขันและชวนให้ติดตาม การแสดงนี้จะพาเราดำดิ่งไปสู่ความขัดแย้งระหว่างขนบธรรมเนียมและความทันสมัย
Unwrapping Culture เป็นการเต้นรำที่เกิดจากผสมผสานของความเก่าและความใหม่ ความงดงาม การออกแบบท่าเต้น และการเต้นรำบนเวทีเพื่อแสดงให้เห็นถึงความไร้พรมแดนทางด้านวัฒนธรรมและศาสตร์ในการสร้างสรรค์งานแสดง
การแสดง "UNWRAPPING CULTURE"
วันที่ : วันศุกร์ที่ 15 และ วันเสาร์ที่ 16 มกราคม 2559
เวลา : 19.30 น.
สถานที่ : ห้องออดิทอเรียม สมาคมฝรั่งเศสกรุงเทพม 179 ถนนวิทยุ (MRT ลุมพินี ทางออกที่ 3)
บัตร : 400 บาทสำหรับบุคคลทั่วไป และ 300 บาทสำหรับนักเรียนและสมาชิก
สำรองบัตรและสอบถามข้อมูลเพิ่มเติม โทร. 02 670 42 33 อีเมล culture@afthailande.org

ALLIANCE FRANÇAISE TO HOLD A PERFORMANCE:
"UNWRAPPING CULTURE"
BY CO.ERASGA / PICHET KLUNCHUN DANCE COMPANY
Unwrapping Culture brings together two exceptional male artists: Filipino-Canadian Alvin Erasga Tolentino, whose sophisticated works reflect on personal and cultural identity, and Pichet Klunchun, an outstanding exponent of the Thai classical dance style of Khon, who is known internationally for contemporizing this ancient form. Their first collaboration combines the technique, theatricality and storytelling elements of Khon with the paraphenalia of today's rampant materialism. The result is a devastating critique of the corruption of authentic Thai culture by the forces of commercialization. This passionate and bitingly funny piece immerses us in the conflict between traditional and modern.
Unwrapping Culture is the intercultural, interdisciplinary approach to performance creation.
PERFORMANCE «UNWRAPPING CULTURE»
Date: Friday 15 and Saturday 16 January 2016
Time: 19.30
Venue: Auditorium of Alliance Française Bangkok, 179 Thanon Witthayu (MRT Lumpini, Exit no.3)
Ticket: Students and member 300 THB and non-member 400 THB
Information: 02 670 42 33 or culture@afthailande.org
สอบถามข้อมูลเพิ่มเติมสำหรับสื่อมวลชน
นนทยา พงศ์ผกาย
ฝ่ายสื่อสารองค์กร สมาคมฝรั่งเศสกรุงเทพ
อีเมล: nontaya.pongpakai@afthailande.org
โทรศัพท์: 02-670-4232