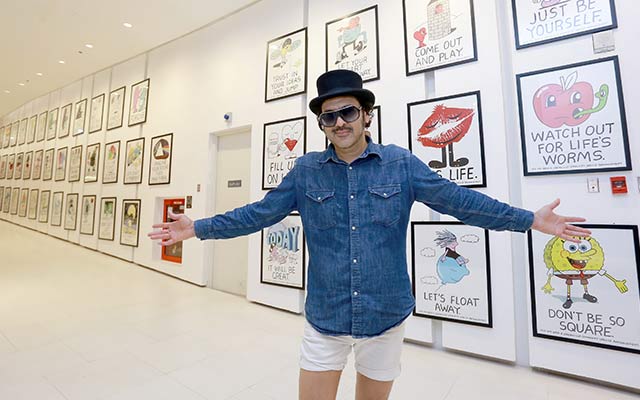 Jeremyville is a New York-based artist with an Architecture degree from Sydney University. He shares his Community Service Announcements messages with the world, and on the streets of New York City, via his street newspaper Jeremyville RAW. His studio is based in an historic brownstone in Brooklyn, and he grew up by the ocean in Wonderland Avenue in Tamarama, a beachside suburb of Sydney Australia.
Jeremyville has been exhibited at the Andy Warhol Museum in Pittsburg, La Casa Encendida Museum in Madrid, the Madre Museum in Napoli, Colette in Paris, Cappellini in NYC, the 798 Arts District in Beijing, and is in many private collections around the world. Steven Heller, an editor at the New York Times, selected Jeremyville for his book '100 Illustrators', a global survey published by Taschen.
He is the co-founder of Studio Jeremyville, and has created projects for Disney, Converse, Swatch, Kiehl's, Uniqlo, Apple, Urban Outfitters, LeSportsac and Volkswagen.
Jeremyville says: "To me, art should have something to say, communicate a message, a feeling, and yes, even try to change the world. I never just try to create a cool or style driven image, to me that's the least important part of art. It should stand for something, provoke inner thought, and alter the way you see yourself and the world. That's the true power of art, and of an unforgettable image" … "Connecting with another person in a real and meaningful way, is the most important thing that art can do. I hope you can visit my installation at Central World and connect in some way with the messages."
You can follow the Jeremyville Community Service Announcements on Instagram @Jeremyville and Facebook: www.facebook.com/JeremyvilleDaily and at www.jeremyville.com