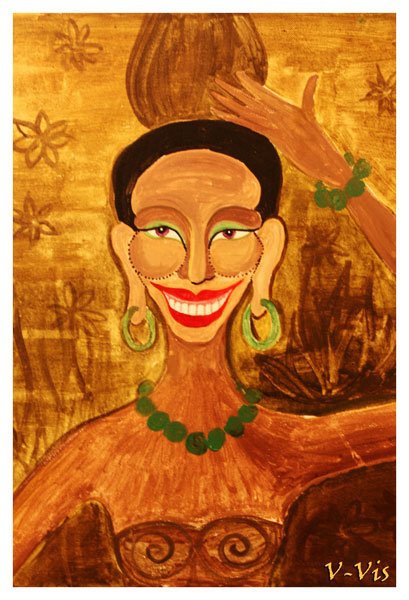 Wannasiri Srivarathanabul is an interdisciplinary artist with architecture background. Her paintings are inspired by her short story writings and designs. Wannasiri's complexity of ability, multitalented and creativity shows up in many ways with multiple passion in arts, such as writing, painting, architectural design as well as composing music and photography. Her writings and paintings reflect her interest in mystery and postmodernism as well as her  full structured plots from her architecture background.
Born : August 1971, Trang Thailand
Education : M. Arch, University of Colorado at Denver
Exhibitions
2008 – LIFE IS A SHORT STORY Art Exhibtion
2005 – THE SEVENTH YEAR ITCH Art Exhibition
2004 – ART MARKET EXHIBITION Organized by The Office of Contemporary Art and Culture, Ministry of Culture
Awards
2003- 1st Prize, House and Garden Architectural Design Competition
2002-Thai Writer Award
วรรณศิริ ศรีวราธนบูลย์
เกิด : สิงหาคม 2514 จังหวัดตรัง
การศึกษา :
M. Arch Unoversity of Colorado at Denver
สถาปัตยกรรมศาสตรบัณฑิต จุฬาลงกรณ์มหาวิทยาลัย
ประวัติการแสดงงาน
2551 – นิทรรศการ LIFE IS A SHORT STORY
2548 – นิทรรศการ THE SEVENTH YEAR ITCH
2547 – ร่วมแสดงงานในนิทรรศการตลาดนัดศิลปะ ของ สำนักงานศิลปวัฒนธรรมร่วมสมัย กระทรวงวัฒนธรรม
———————


Contact the Artist
Wannasiri S.
Mobile : 081-6582305, 089-1132305
Facebook: http://www.facebook.com/IamWannasiri
Email: Editor@HiclassSociety.com