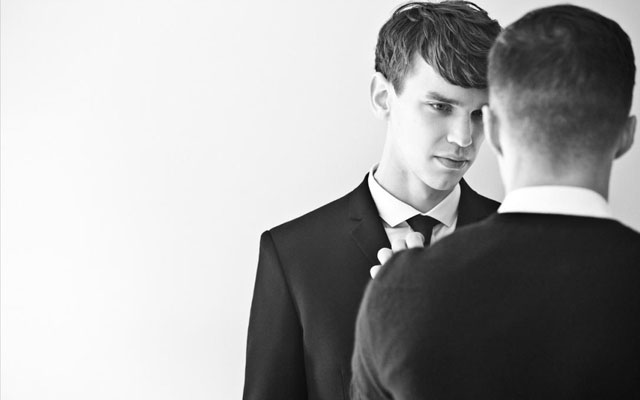 The space is white. Immaculate. Rectilinear. It speaks of a time that we imagine to be somewhere in the near future. A world of hygenic beauty.



To further heighten the effect, the setting is the Garde Républicaine horse-riding ring, a 19th-century glass and metal structure holding a fashion show for the first time ever. The contrast is striking. And it's to a third era entirely that we're transported by the music: 1982, Anne Clark and the New Wave revolution.
The first models appear with a brisk step, in time to the electronic rhythms. The suits are black, very black; the white shirts are very white. A single necktie line creates a graphic structure, a very black one. The look is more athletic, narrowing at the waist, sometimes even emphasized by a metal-buckled belt on the jackets. In this chaotic futuristic world inferred by the contrasting decor, and further underlined by the music, the man that Kris Van Assche had in mind for Dior Homme this season is an idealized image.


Under the runway's white lights, he moves with confidence, strict, ultra clean, flawless. Down to his shoes, which feature a translucent plastic shell covering sole and heel, as though to insulate the footstep from the ground, as if no harm could come to the wearer. The bi-material jackets seem molded on the body, neoprene and technical canvas at times appearing to give an armor-like structure to the silhouette. They zip right up to the collar. Everything is controlled. The man is like a superhero, but not one from the silver screen – fantasy has given way to reality. The designer's wished-for future is an optimistic one. Men gather together in fraternities. And, this season, Dior Homme's one wears its emblem proudly, an enigmatic sign: a triangle held inside a circle. We find it on sweaters and jackets, in black, white, gray or red. That same red, being such a Dior color, also appears for graphic effect of chalk-striped suits, single lines alternating with double ones.
After a finale turn on the runway, the models stood on the walkways around the space as though ringing the setting with modernity. The future is now.