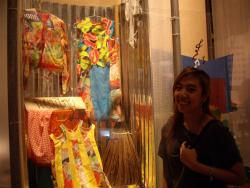 Raffles Bangkok show great productivity Fashion creation – "Nee Yom Thai" Show @ the TCDC Ploy Saeng Festival

The Ploy Saeng festival features a showcase of work from recent graduates from all over Thailand. This year the festival is being held from June 22 to August 28, 2011 at The Thailand Creative and Design Center (TCDC) that has an important role as Thailand's creative economy driver. The event encourages students from any fields.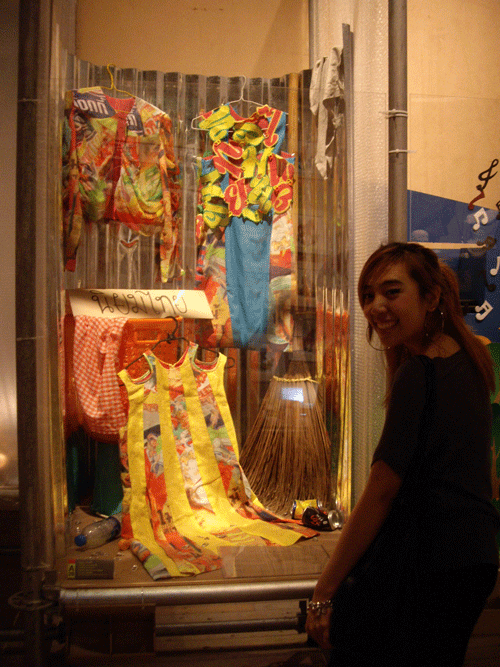 Ms Chanittha Dharmsthiti was chosen to exhibit some of her work at TCDC. Ms Chanittha graduated in Fashion Design from the Raffles International College (Bangkok) this year.  The quality of her work and dedication to create innovative designs continues to be a great source of pride for the institution.
She explained that her collection, "Nee Yom Thai" (favored Thai) is drawn from both Thai and Western pop culture, using the street as inspiration. It combines elements of Western street art (graffiti) and aspects of Bangkok street life. The display shows the unseen Bangkok and captures the anticipation of the city. It is determined to "bring back Thai" from a contemporary perspective, to inspire and to remind Thai people of their roots.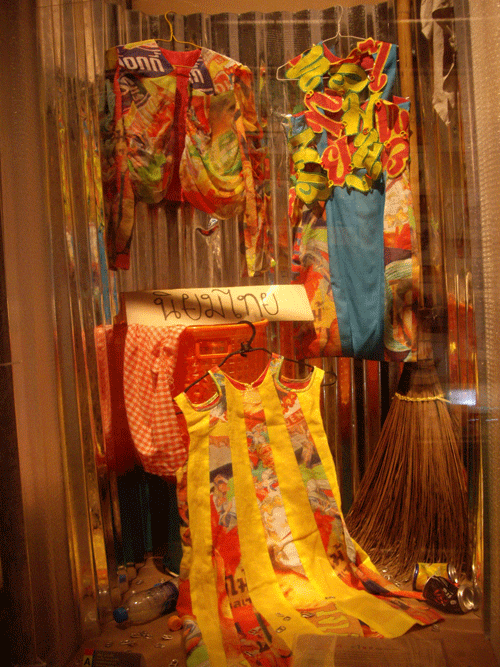 "Nee Yom Thai" speaks of what is going on around the streets. The designer plays with the idea that Thai people like to absorb what surrounds them and to create a new object
whose purpose has changed from its original form. This newly formed creation can also tell much about the lifestyle of Thai people. It shows that they are easy going and do not focus on minor details.  Furthermore the piece can be considered "pop art" as it is the creativity that lies under the necessity and it reflects the current popular culture.
Ms Chanittha also stated that Raffles has provided her with a solid foundation to greatly enhance her development as a designer.  She has learnt many skills such as drawing, sketching, pattern design, sewing and the history and importance of fashion. These are the basics with which creative pieces of work evolve. Raffles provides opportunities for students to design garments based on their own personal inspiration. Furthermore, throughout the transfer of knowledge, lecturers are readily available for consultation, which they provide in a friendly and easily approachable manner.
After graduation,Ms Chanittha was chosen, as a result of her commitment and the standard of her designs, to work as an Assistant Designer for www.shopatlovebird.com, the online store that provides high quality women's wear of varying styles.
As a result of her studies, Ms Chanittha is able to understand the elements of clothing that can be readily communicated with a tailor. From the perspective of a designer, the ability to transfer your point of view or vision is very important. In addition, she is able to design outfits that whilst maintaining the image of the brand still reflects her own personal touch.
As an indicator of the quality of her creations, Ms Chanittha was recently interviewed by Cleo Magazine in regards to her collection "Nee Yom Thai" which is currently being showcased at the Ploy Saeng exhibition at TCDC.
This is another example of the high caliber of graduates who have gained knowledge and invaluable experience through the partnership of Raffles and design industry professionals.