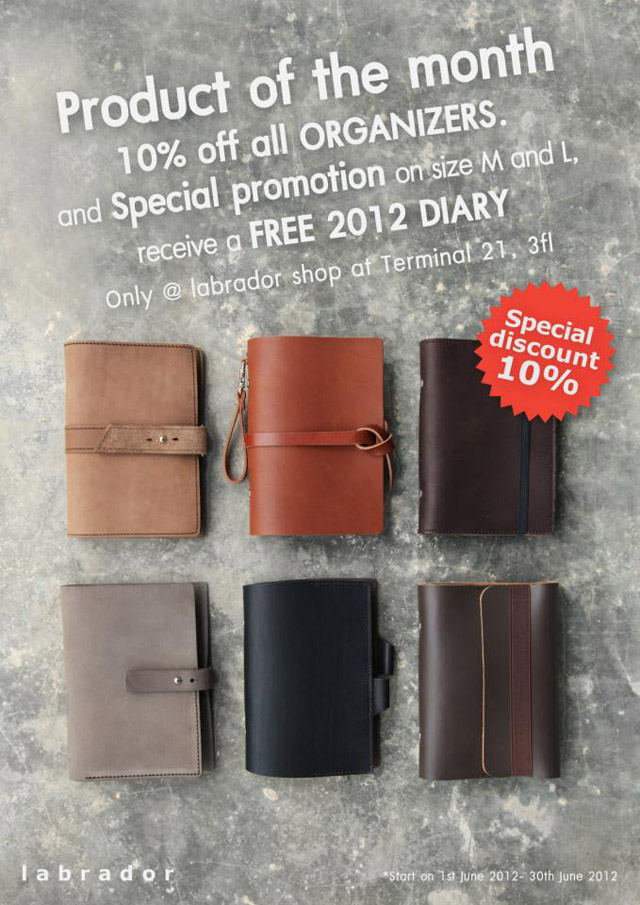 Product of the month 10% OFF ALL ORGANIZERS & Special promotion on size M and L
receive a FREE DIARY 2012
About.
eco, life, design, product are our work…
Mission
eco, life, design, product, our work…
Description
labrador_factory@yahoo.com
contact@labradorfactory.net
General Information
The Labrador story
At Labrador, we believe in free and independent thinking without limitations. The young and energetic minds of our creative designers enable us to create attractive products with simplicity and minimalism as design concepts. Above all, we create our products with love so that our customers have a deeper connection with the products.
All out products are handmade and have a bold and unique character of design. This product design concept has seen our popularity soaring in international markets. We have established our products worldwide and have received excellent feedback from our customers especially for our products' minimalism, durability and life long attractiveness.
Basic Info.
Founded
2005
Awards
2006 Made in Thailand award "Home and living design" , Thailand
2009 Gmark design award , Japan
2009 DEmark design award , Thailand
2009 PRIME MINSTER AWARD , Thailand.
2010 Architect 2010 award "All for design" , Thailand
2011 DEmark design award, Thailand
Products
environmental products?
Nowadays the world are persuaded by cheap and low quality product because most of the manufacturer and vendor want the cheap product to boost their sell. With unintentional or being blind, the low quality product and low quality material ruin the world by waste. Low quality product will easily be damaged or broken. When it is need to be recycled, the cost of recycling the waste is maybe more than the price of the product. Is it worth to buy if the product harm our world eventually? If everyones know this environmental concern ,they can help the world by reducing trash.
[high quality product=waste reduction]
eco, life, design, product, our work…
Our product design is based on eco lifestyle product that is not fashion because fashion is always changed. We offer the long-life-use product which is very durable. So our product and leather look very nice from the first-time use and if it is being used for very long time, it will even nicer because the genuine leather will age beautifully. Since We expose the surface of genuine leather with very very thin water-based coloring to reach highest natural touch and feel. Worth to buy and worth to produce are our product thought because natural resources is being used on the basis of value appreciation. Together with the low-waste design process, it is applied to gain production efficiency and decreasing natural resource consumption.
The eco building was designed since the beginning to be our office and factory. Natural light usage, water treatment system, natural ventilation system and low heat transmissibility are implemented to create comfort atmosphere of every spaces. Absolutely the recycle process is applied as well.
Contact Info.
Website : http://www.labradorfactory.net
Website : http://www.labradorfactory.net