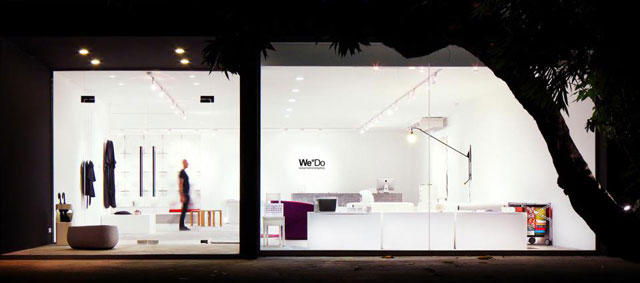 We*Do Gallery – creates a unique retail and Design experience that wants to add something new and exciting to Bangkok .
The furniture, Fashion and Objects offered at the Gallery deliberately blur the distinctions between production and craft, between industry and Art . One may find, for instance, a PIORIOBRANCO handmade and Limited Edition OBI next to a Maison Martin Margiela latest Ligne 13 white Object or maybe one day you find a Famous tattoo artist to ink your skin .
The intention is to force a view of each piece based on the context of its presentation, rather than its function or material–As a larger part of our vision, and to round out the concept of exploring the interplay between relevant Fashion, Design and living with beautiful things, we now will devote a wall in the space to curate a rotation of Art, as well as floor space for more dimensional sculpture .
Another focus of the Gallery is to introduce, represent and curate Limited Editions and Unique Pieces for Design Collectors of the most aclaimed Contemporary names . We*Do Gallery is constantly being challenged and inspired by great artists, keeping our rotation fresh and offering new Unique – Artpieces every few months .
With 15 years of background, International Projects and working in close collaboration with the most re-knowned Brands, in the world of cutting edge Design, We*Do Gallery creates interior solutions selecting furniture with high quality, functional details, clean & exciting lines, new high quality materials that look for exclusive First-class contemporary customers .
We*Do Gallery works has been published in magazines as Wallpaper* Magazine, ELLE DECO, Architectural Digest, NeO2, Experimenta, Look & Select Luxury or Frame among others and its name is spreading through the best Blogs in the virtual world .
******************************
Gallery Owner
******************************
GALLERY INFO.
79 THONGLOR 8 ( just behind The Eight building ), Turn RIGHT when soi 8 splits.
Tel : 02-391-4866
Fax : –
Email : info@wedo-gallery.com
Website : http://www.wedo-gallery.com
Open Hours : Tue-Sat: 11:00am-8:00 pm
Map : –
******************************