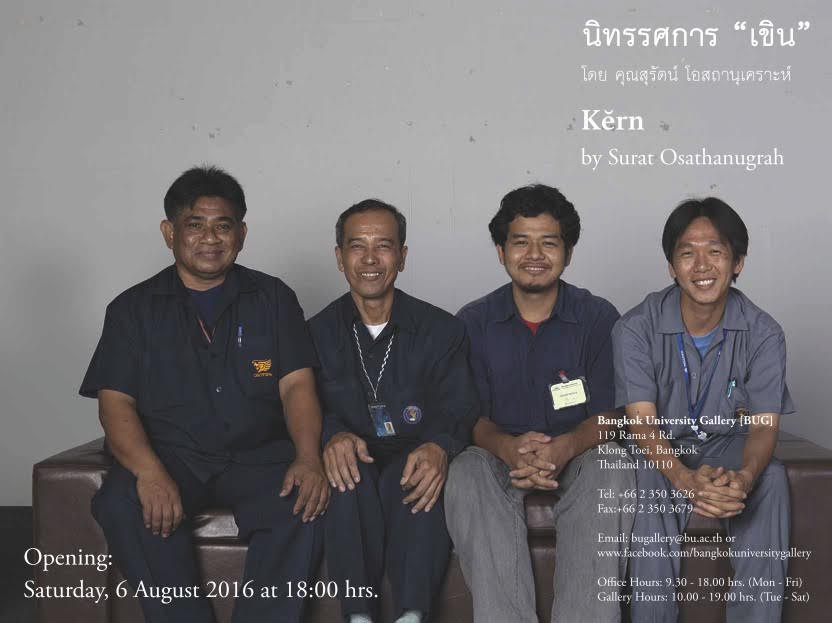 นิทรรศการ "เขิน" (kĕrn) โดย คุณสุรัตน์ โอสถานุเคราะห์
พิธีเปิดนิทรรศการ วันเสาร์ที่ 6 สิงหาคม 2559 เวลา 18.00 น.
ณ หอศิลปมหาวิทยาลัยกรุงเทพ วิทยาเขตกล้วยน้ำไท
จัดแสดงตั้งแต่ 6 – 27 สิงหาคม 2559
แม้ว่า
คุณสุรัตน์ โอสถานุเคราะห์
ได้ถึงแก่อนิจกรรมไป 8 ปีแล้ว แต่สิ่งหนึ่งที่นอกเหนือจากประวัติและผลงานทางด้านเศรษฐกิจและการเมือง คุณสุรัตน์ยังมีผลงานภาพถ่ายจำนวนมากที่ได้บันทึกไว้ซึ่งหลายคนอาจจะเคยผ่านตาหรือได้ชมในผลงานนิทรรศการภาพถ่าย อาทิ นิทรรศการกรุงเทพเลือนหาย vanishing bangkok หรือ นิทรรศการหลงหูหลงตา unhiddenness ฯลฯ ซึ่งในความเป็นจริงแล้วคุณสุรัตน์ยังมีผลงานภาพถ่ายอีกชุดหนึ่งซึ่งเป็นการบันทึกเรื่องราวและความรู้สึกที่ค่อนข้างเป็นส่วนตัวที่ยังไม่เคยถูกจัดแสดงมาก่อน
สำหรับในนิทรรศการ "เขิน" ในครั้งนี้ได้รวบรวมผลงานชุดดังกล่าว ซึ่งกล่าวได้ว่าเป็นผลงานชุดสุดท้ายและเป็นผลงานภาพถ่ายสีเพียงชุดเดียวโดยคุณสุรัตน์มานำเสนอ ผลงานชุดนี้บอกเล่าเรื่องราวที่แตกต่างไปจากผลงานชุดอื่นๆ อย่างมากด้วยเหตุที่ผลงานก่อนหน้านี้ คุณสุรัตน์มักมองผ่านสายตาของผู้เข้าไปสำรวจที่มองความเปลี่ยนแปลงและบันทึกสิ่งของ บุคคล เรื่องราวไว้เพื่อเป็นหลักฐานทางสายตา (visual evidence) แต่ในผลงานชุดนี้ คุณสุรัตน์ไม่ได้มองสิ่งที่อยู่เบื้องหน้าอย่างคนที่เข้าไปสำรวจ (surveyor) แต่มองสิ่งต่างๆ จากภายในทั้งหมด ผลงานชุดนี้จึงสะท้อนถึงความผูกพันอันลึกซึ้งระหว่างตัวคุณสุรัตน์กับครอบครัวโอสถสภาอย่างอย่างเหนียวแน่น
สอบถามข้อมูลเพิ่มเติม กรุณาติดต่อ +66 2 350 3626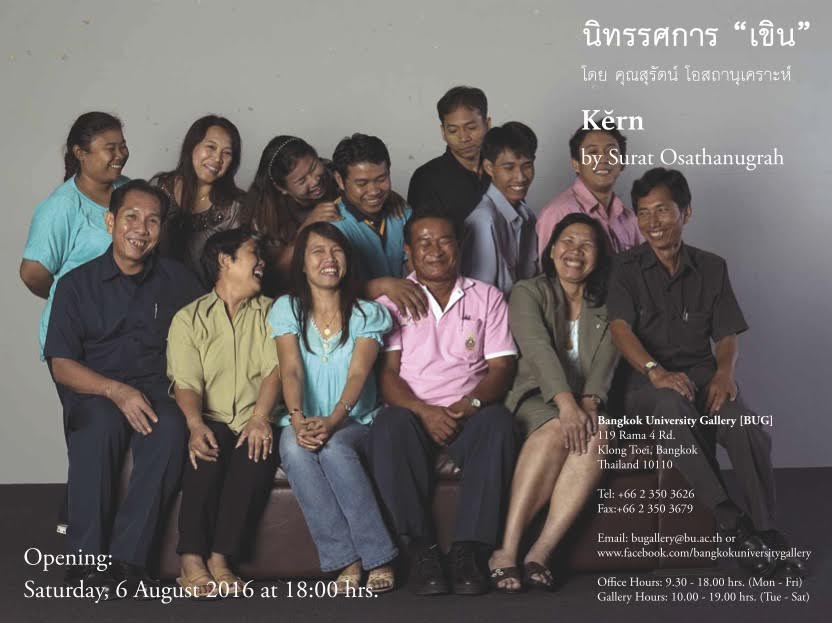 Kĕrn by Surat Osathanugrah
Opening: Saturday, 6 August 2016 at 18:00 hrs.
Bangkok University Gallery (City Campus)
Exhibition period: 6 – 27 August 2016
Surat Osathanugrah
passed away 8 years ago. Apart from his successes in economics and politics, he was respected as a reknown photographer. Many of his photographic works were shown in exhibitions such as Vanishing Bangkok, Unhiddenness etc. However, there is one series that has never been shown before and he recorded quite personal story and feeling. 
Kĕrn is the photography collection of the referred series which may be claimed as the last series and the only coloured series of Surat. This body of works totally differs from the others as previously Surat looked and recorded things with the eyes of surveyer by observing changes and recorded things, people and stories for visual evidence. However, in this work, Surat did not look at things like a surveyer. He looked as insider. As a result, this series shows the close relation between Surat and Osotsap family.
For further information, please call +66 2 350 3626