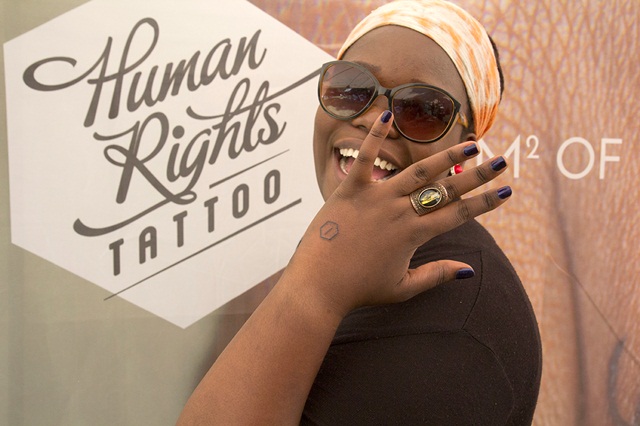 International art project Human Rights Tattoo for the first time in Asia
International art and tattoo project Human Rights Tattoo is very proud to announce that it will have her first Asian event in Myanmar. In Human Rights Human Dignity International Film Festival (HRHDIFF) based in Yangon the project has found the perfect partner for their entry in Asia. Human Rights Tattoo will attend filmfestival HRHDIFF June 17th and 18th, there the project will tattoo a couple of phrases from the Universal Declaration of Human Rights.
Human Rights Tattoo
The Human Rights Tattoo project is a community art project started by Dutch artist Sander van Bussel that aims to create awareness and underline the importance of Human Rights. Its goal is to tattoo the complete Declaration of Human Rights on individuals, letter by letter. The complete text of the declaration contains 6773 letters. Each person gets one character. This means that in the end, there is acommunity of 6773 people from all around the world united by carrying the complete Universal Declaration of Human Rights on their skin.Human Rights Tattoo toured Europe, Africa and the America's and as we are writing 2959 people from 59 different countries joined Human Rights Tattoo! The whole process of tattooing this declaration worldwide takes up to 7 years.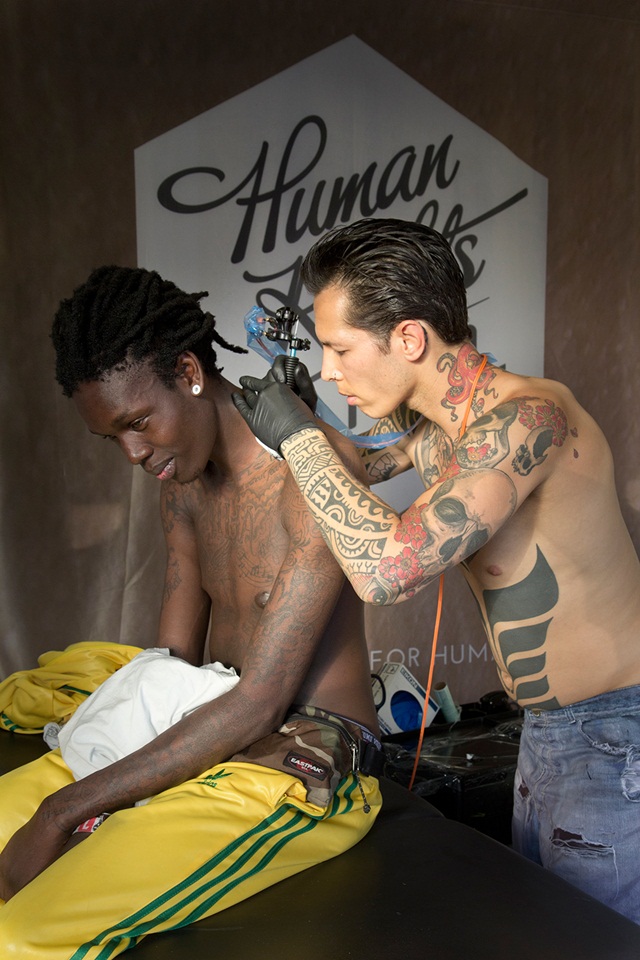 HRHDIFF (Human Rights Human Dignity Film Festival)
Myanmar (Birma) has gone through major changes in the last four years. However a rough road is ahead of the new government as the former military rulers left the country in poverty and an on-going civil war. By tattooing a part of the Declaration of Human Rights in Myanmar we hope to contribute to the excitement of this new democracy, its celebration of freedom, as well to raise awareness on the issues and challenges the country still faces. The film festival is dedicated to Aung San Suu Kyi who played an integral role in promoting issues of human rights in Myanmar. The event will take place June 17th and 18th from 10am – 6pm at Pansodan Art Gallery in Yangon.The tattoos will be done by Myanmar tattoo artist Ko Aung, Ka Gee en Ko Hman Gyi of Hledan Ink Tattoo.
Special thanks to Marketing Tilburg and Festival Mundial – Tilburg, the Netherlands for making this trip possible
How to participate?
The number of tattoos that can be done on one day is limited by time, so Human Rights Tattoo has a limited amount of tattoos available per event. We work with a first come first serve principle. So if you are determined not to go home without a Human Right Tattoo make sure you get there in time.
 
Procedure to get a Human Rights Tattoo
At arrival at the event you will receive a registration card with your letter on it. You can't choose your letter but the font and your position on your body is up to you. You can pick a font type from the Human Rights Tattoo fonts catalogue that will be available on the spot. After your tattoo is done we take a super up-close picture of your tattoo that will be published on our website together with your motivation. Please think about your motivation upfront. A good statement is personal and gives an insight in your life and your personal relation to human rights. All tattoos and statements will be uploaded on the website www.humanrightstattoo.org.

PAYP
Human Rights Tattoos are not for free. We work with a Pay As You Please system to make our project accessible for everyone, no matter your background or budget. As a guidance; tattoo materials cost ± 4,50 dollar for each tattoo, and a tattoo of this size normally starts from 50, – dollar at a regular tattoo studio. You can leave your contribution in our Pay As You Please Box on the spot.
Myanmar Report 
June 25th of this year, Sander van Bussel (founder of HRT) will share the experiences of Human Rights Tattoo in Myanmar in a presentation at Festival Mundial – Tilburg, the Netherlands. An interview and straight off report from Myanmar about the impact of Human Rights Tattoo in a country that was / still is deprived of basic human rights for 50 years. The presentation will take place Saturday June 25th.
 Made by a community
Sander van Bussel from art collective Tilburg Cowboys is creative founder of Human Rights Tattoo. The murder of fellow artist and Steven 'Nyash' Nygah in Nairobi in 2012 motivated him to pursue his idea. Human Rights Tattoo has since then grown into a community of human rights ambassadors, volunteers and organisations who all work together to accomplish Human Rights Tattoo. For more information check the website www.humanrightstattoo.org or contact:  sander@humanrightstattoo.org
for further information please contact Sander van Bussel (founder of Human Rights Tattoo) – sander@humanrightstattoo.org or contact HRHDIFF (film festival Yangon) info.hrhdiff@gmail.com or +95 (0) 9 4500 52392