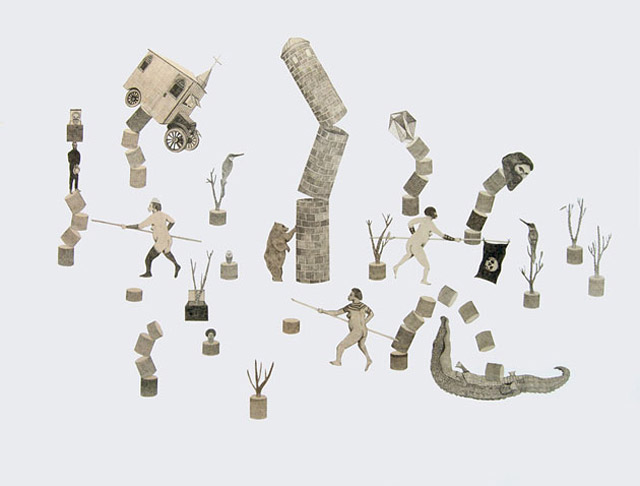 โครงการศิลปกรรม "Brand New 2012"
โครงการศิลปกรรม "Brand New" ถือกำเนิดขึ้นในปี พ.ศ. 2547 เพื่อหาความร่วมมือระหว่างหอศิลป์ในกรุงเทพมหานคร ในปีนี้ได้ดำเนินมาอย่างต่อเนื่องปีนี้ย่างเข้าปีที่ 8 โดยมีวัตถุประสงค์เพื่อส่งเสริมและสนับสนุนในการให้โอกาสแก่ ศิลปินและนักวิจารณ์รุ่นใหม่ในการนำเสนอชุดผลงานผ่านการคัดเลือกจากกรรมการคัดสรรหรือภัณฑารักษ์ โดยกล่าวได้ว่า เป็นโครงการที่ประสบความสำเร็จในระดับสูง
เนื่องจากสามารถสร้างศิลปินและนักวิจารณ์ศิลปะรุ่นใหม่ให้กับวงการศิลปะไทยร่วมสมัย อาทิ อริญชย์ รุ่งแจ้ง, สุดศิริ ปุยอ๊อก, พรทวีศักดิ์ ริมสกุล, ยุรี เกนสาคู, ประทีป สุธาทองไทย และดุษฎี ฮันตระกูล เป็นต้น
สำหรับในปี พ.ศ. 2555 นี้ ได้เชิญภัณฑารักษ์ชาวฟิลิปปินส์ ริงโก้ บูโนอาน (Ringo Bunoan) เพื่อเป็นภัณฑารักษ์รับเชิญในการทำวิจัยและคัดสรรผลงาน ริงโก้เป็นศิลปินและภัณฑารักษ์ที่ร่วมก่อตั้งพื้นที่ทางเลือกสำหรับศิลปะฟิลิปปินส์ร่วมสมัย 'Big Sky Mind' ที่ประสบความสำเร็จอย่างสูงในยุคต้นคริสต์ทศวรรษ 2000s ปัจจุบันริงโก้ยังเป็นผู้วิจัยให้แก่ Asia Art Archive ประจำประเทศฟิลิปปินส์
ทางคณะผู้จัดทำโครงการ ขอเชิญผู้สนใจที่ไม่เคยแสดงผลงานเดี่ยวมาก่อนเข้าร่วมเสนอผลงานโดยส่ง Portfolio และทำนัดหมายมาที่อีเมล์: buggallery@bu.ac.th โทร: 0 2350 3626 โดยสามารถติดต่อหรือส่งผลงานที่ คุณณรงค์ศักดิ์ นิลเขต ได้ตั้งแต่วันนี้เป็นต้นไปจนถึง 7 กรกฎาคม 2555
ขอเชิญผู้ที่สนใจร่วมในพิธีเปิด โครงการศิลปกรรม 'Brand New 2012' ในวันเสาร์ที่ 15 กันยายน 2555 เวลา 17.00 น. ณ หอศิลปมหาวิทยาลัย มหาวิทยาลัยกรุงเทพ วิทยาลัยเขตกล้วยน้ำไท
————————————————————————————
The 'Brand New 2012' Art Project
The 'Brand New' Art Project was initiated and launched in 2004 in order to seek cooperation among art galleries in Bangkok. The project has been continuously and successfully carried out and is now entering its 8th year this year with the aims to encourage, support and provide opportunities to new artists and critics to showcase their works which are selected by the selecting committee members or curators. It can be stated that the project is highly successful because it has created new generation of artists and art critics for the Thai contemporary art society: Arin Rungjang, Sudsiri Pui-Ock, Porntaweesak Rimsakul, Yuree Kensaku, Prateep Suthathongthai,  Dusadee Huntrakul, to name but a few.
For this year, we invite Ringo Bunoan as our guest curator to work on collaborative research and select art works for this year's project. Ringo was among the group of artists and curators who participated in the establishment of an alternative space for the Filipino contemporary art 'Big Sky Mind', which was very successful in the early years of 2000s. Currently, Ringo is also a researcher at the Asia Art Archive in the Philippines.
As the project coordination committee, we would like to invite any interested person who has never presented individual art works before to submit your works in the form of portfolio and make an appointment with us at buggallery@bu.ac.th, or call 02-350-3626, contact person: Mr. Narongsak Nilkhet, from now until July 7, 2012.
We also would like to welcome you to attend an opening ceremony of the 'Brand New2012' Art Project on Saturday, September 15, 2012, at 5.00 p.m. at Bangkok University Gallery (BUG), City Campus.