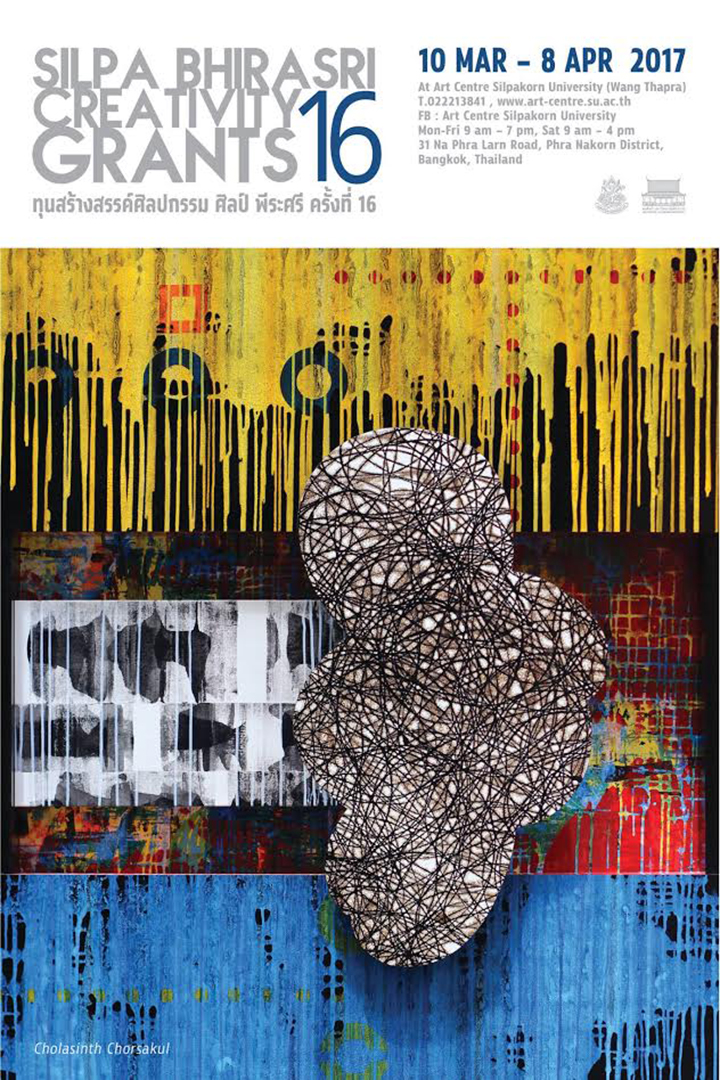 หอศิลป์มหาวิทยาลัยศิลปากร ขอเรียนเชิญทุกท่านในพิธีเปิดนิทรรศการ "ทุนสร้างสรรค์ศิลปกรรม ศิลป์ พีระศรี ครั้งที่ 16" วันศุกร์ที่ 10 มีนาคม เวลา 18.00 น.
ณ ท้องพระโรง หอศิลป์มหาวิทยาลัยศิลปากร (วังท่าพระ)โดยมี คุณชฎาทิพ จูตระกูล ประธานเจ้าหน้าที่บริหาร บริษัท สยามพิวรรธน์ จำกัด ให้เกียรติเป็นประธานในพิธีเปิดนิทรรศการ พร้อมกิจกรรมเสวนาโดย 7 ศิลปิน เวลา 16.00 น. ในวันเปิดนิทรรศการ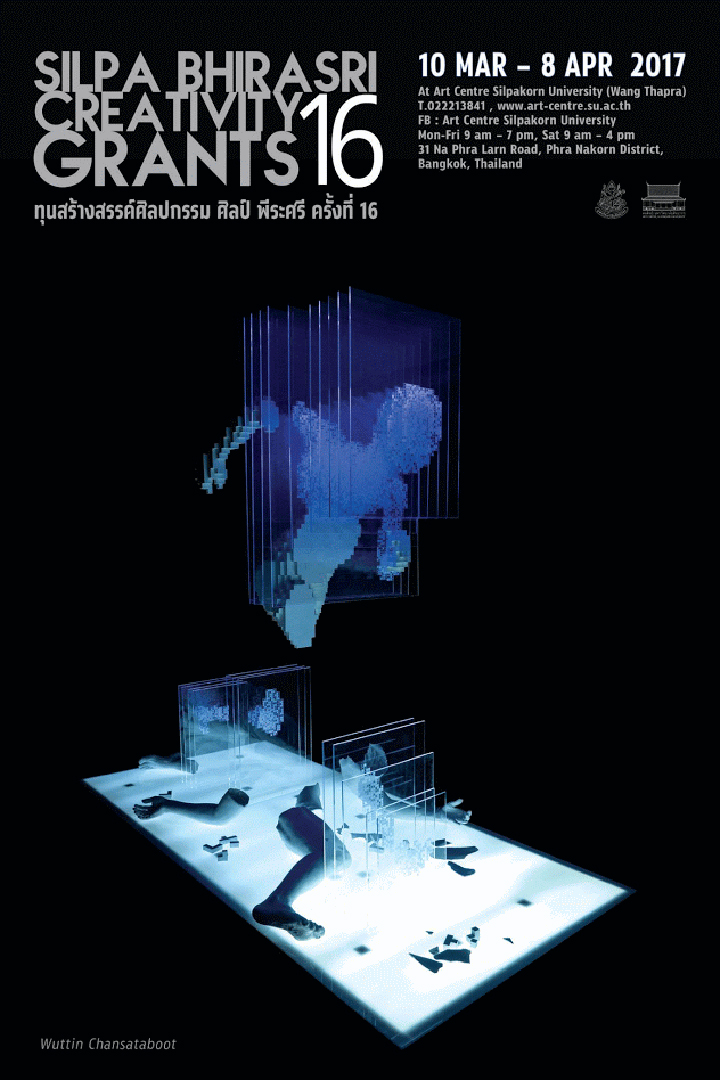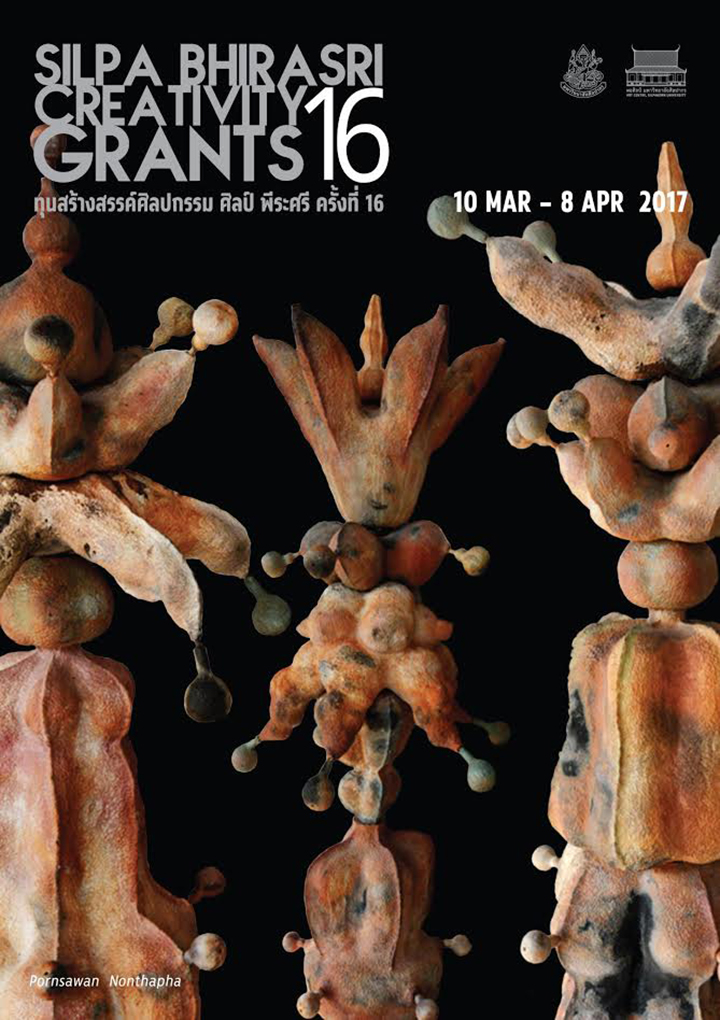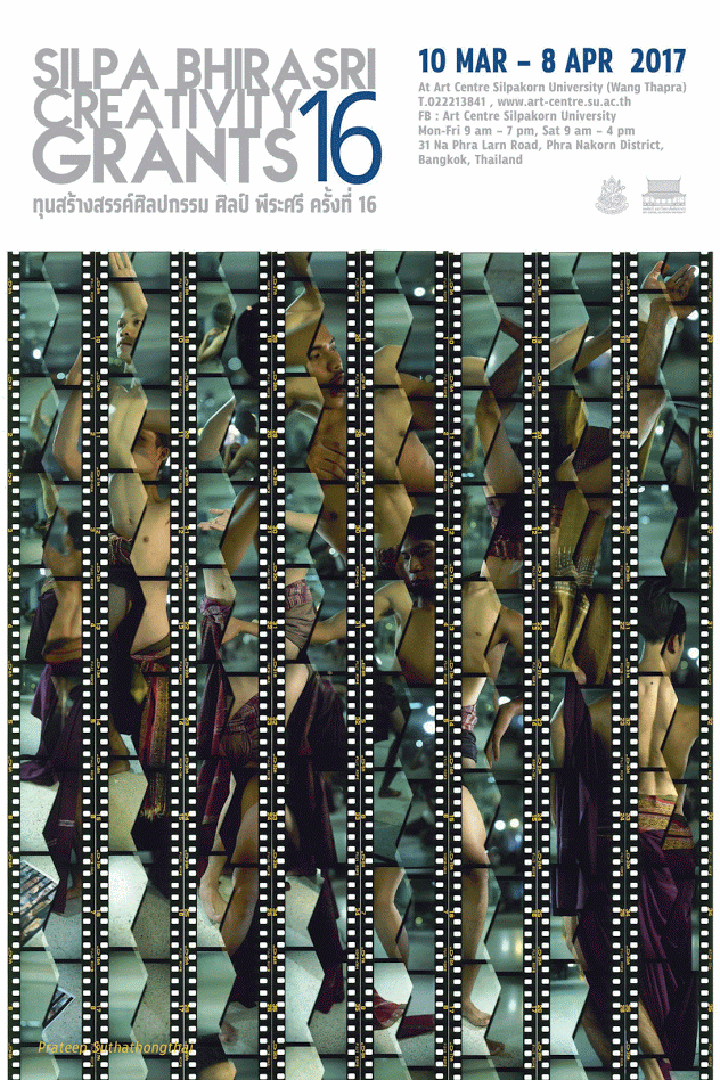 นิทรรศการนี้เป็นการแสดงผลงานศิลปกรรมของ 7 ศิลปินที่ได้รับคัดเลือกให้ได้รับทุนสร้างสรรค์ศิลป์ พีระศรี ให้ดำเนินการวิจัย ค้นคว้า และสร้างสรรค์ผลงานศิลปะในระยะเวลา 1 ปี
กิตติวัฒน์ อุ่นอารมณ์
จินตนา เปี่ยมศิริ
ชลสินธุ์ ช่อสกุล
ประทีป สุธาทองไทย
พรสวรรค์ นนทะภา
วารี แสงสุวอ
วุฒินท์ ชาญสตบุตร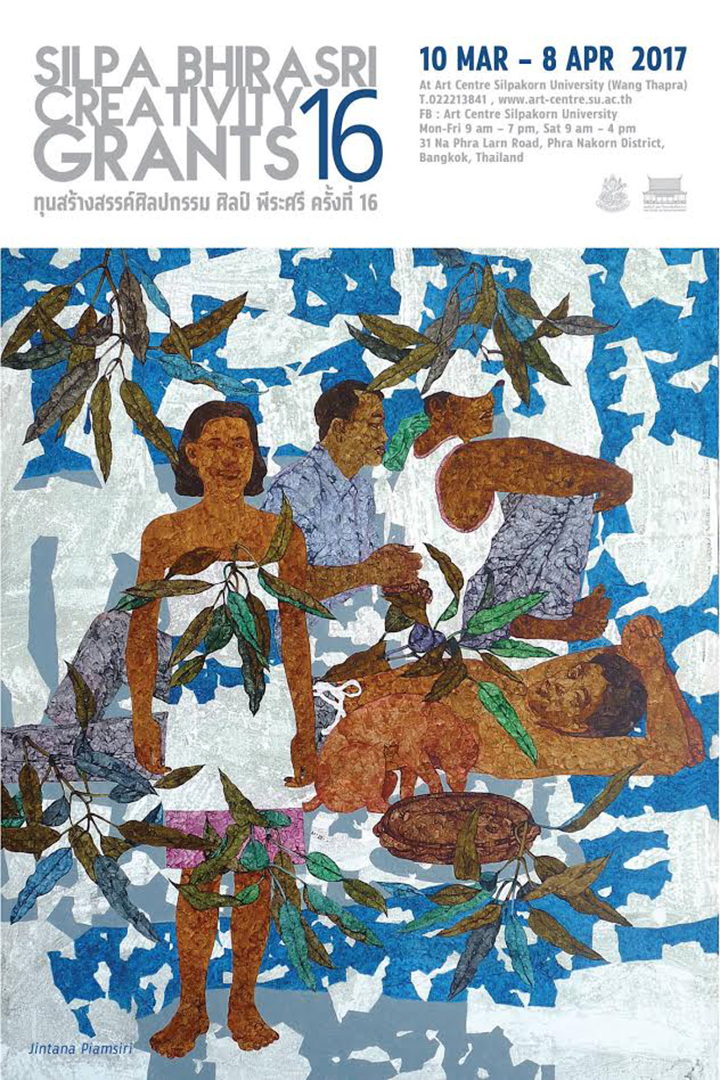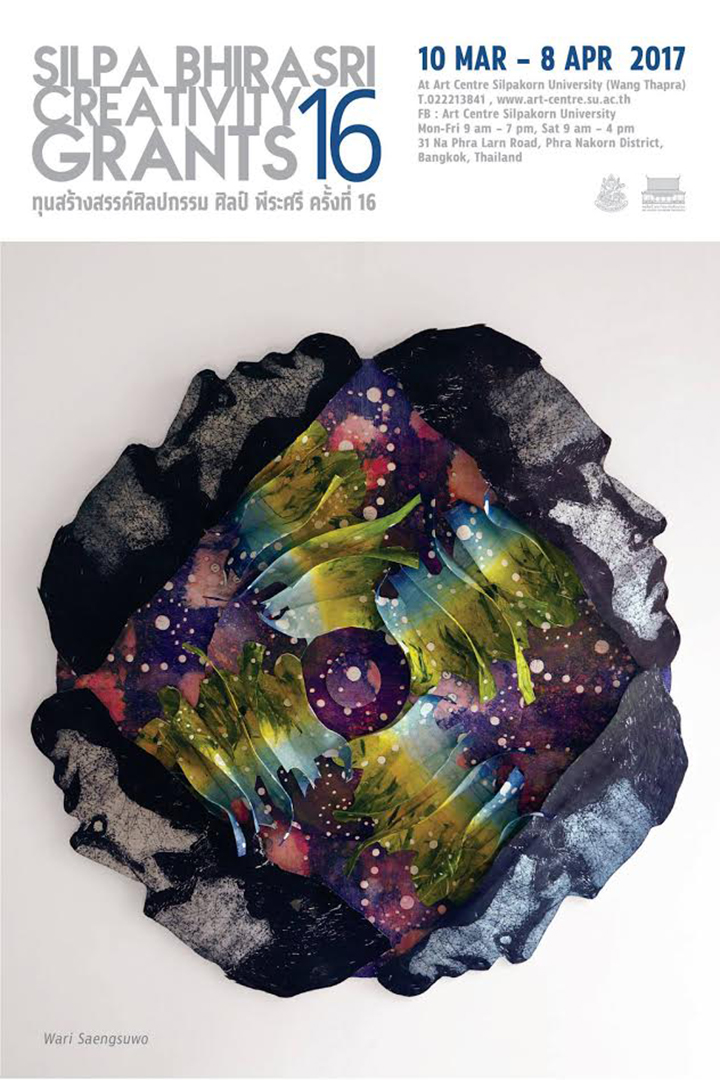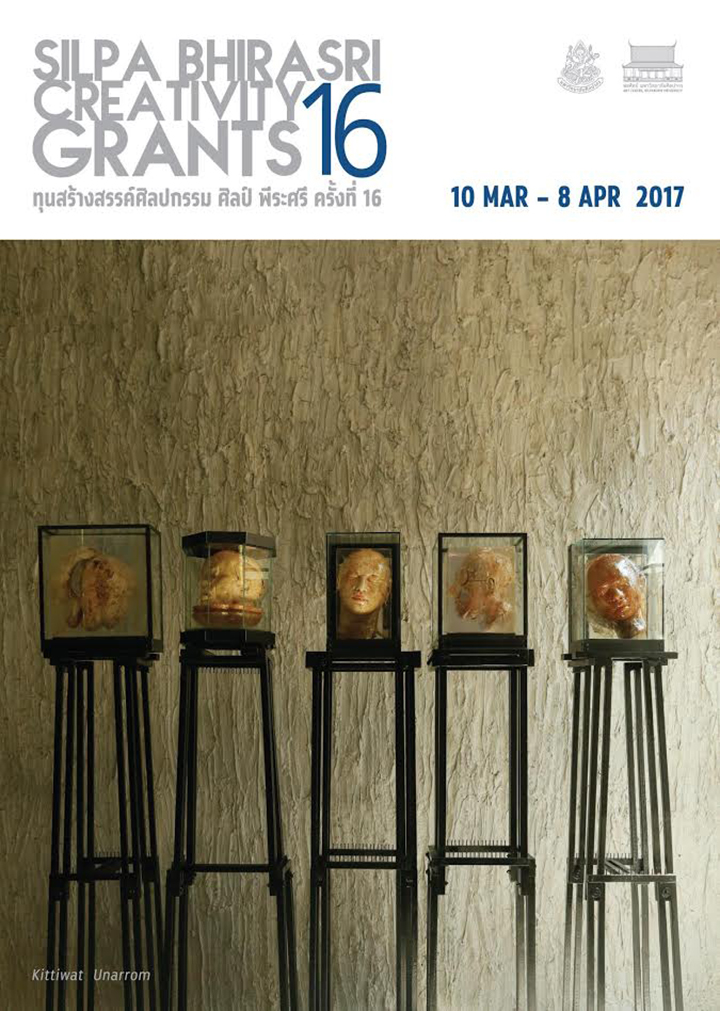 นิทรรศการจัดแสดงจนถึงวันที่ 8 เมษายน 2560
เปิดให้ชมทุกวัน จันทร์ถึงศุกร์ 9.00 – 19.00น. เสาร์ 9.00 – 16.30น. (เว้นวันอาทิตย์และวันหยุดราชการ)
The Art Centre, Silpakorn University cordially invites you to the Opening Exhibition of "The 16th Silpa Bhirasri Creativity Grants"
On Friday 10th March 2017 at 6pm. at the Main Hall of the Art Centre Silpakorn University (Wangthapra) To be presided over by Mrs.Chadatip Chutrakul, CEO of Siam Piwat Co,Ltd. (Artist's Talk will be held at 4pm)
Silpa Bhirasri Creativity Grants is a project that welcomes artists to submit a project that strongly represent their interesting process of work and body of knowledge in art, which will be selected by honourable judges to receive grant to create work upon the proposed project. Works showcased in this 16th Silpa Bhirasri Creativity Grants are the outcome of a year-long work from 7 granted artists in various field of art :
Kittiwat Unarrom
Jintana Piamsiri
Cholasinth Chorsakul
Prateep Suthathongthai
Pornsawan Nonthapha
Wari Saengsuwo
Wuttin Chansataboot
Exhibition is on view until 8 April 2017
Mon – Fri 9am to 7pm/ Sat 9am to 4.30pm
(except Sundays and Public Holidays)
เนื่องจากมีการเปลี่ยนแปลงเส้นทางเดินรถบริเวณโดยรอบมหาวิทยาลัย และข้อจำกัดเรื่องที่จอดรถภายในมหาวิทยาลัยศิลปากร วังท่าพระ ขอแนะนำให้เดินทางมายังหอศิลป์ฯ โดยรถสาธารณะ เรือด่วนเจ้าพระยา หรือ หากมีความจำเป็นต้องนำรถยนต์มา สามารถจอดรถได้ในสถานที่ใกล้เคียง
Due to the traffic restriction around the university and limited parking space within the university, it is recommended to travel to the Art Centre by public transportation (taxi, bus, Chaophraya express boat). If you need to bring your own vehicle, there are parking spaces (fees applied) available nearby.