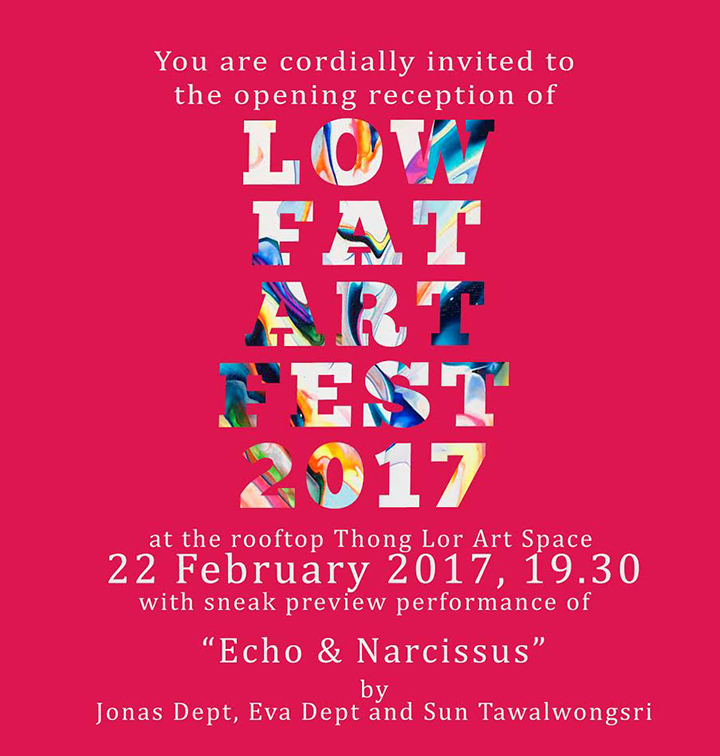 Low Fat Art Fest ภูมิใจเสนอ ผลงานการแสดงโปรแกรมแรกของซีซั่นนี้ "Echo & Narcissus" การร่วมมือกันสามศิลปินได้แก่ โจนาส เดปต์นักเปียโนฝีมือเยี่ยม ภาพเคลื่อนไหวโดยศิลปินชาวเบลเยี่ยม เอวา เดปต์และพร้อมกับการเคลื่อนไหวโดยนักออกแบบท่าเต้น สรรถวัลย์วงศ์ศรี" Echo & Narcissus " เป็นการแสดงเดี่ยวเปียโน ภาพเคลื่อนไหวและท่าเต้น ที่ถอดความจากเรื่องราวความรักอันแสนโศกจากตำนานกรีกของ 'เอคโค่' นางไม้แสนงามที่เป็นได้เพียงเสียงสะท้อนของผู้อื่น และ 'นาร์ซิสซัส' ชายหนุ่มรูปงามผู้หลงรักตนเองจากเงาสะท้อนบนผิวน้ำ โดยการแสดงในครั้งนี้จะประกอบไปด้วยศิลปะถึง 3 แขนงด้วยกัน ทั ้งการบรรเลงเดี่ยวเปียโน ภาพวีดีโอกราฟฟิค และการเคลื่อนไหวร่างกาย มาร่วมทำงานอยู่บนพื้นที่เดียวกันแบบสดๆ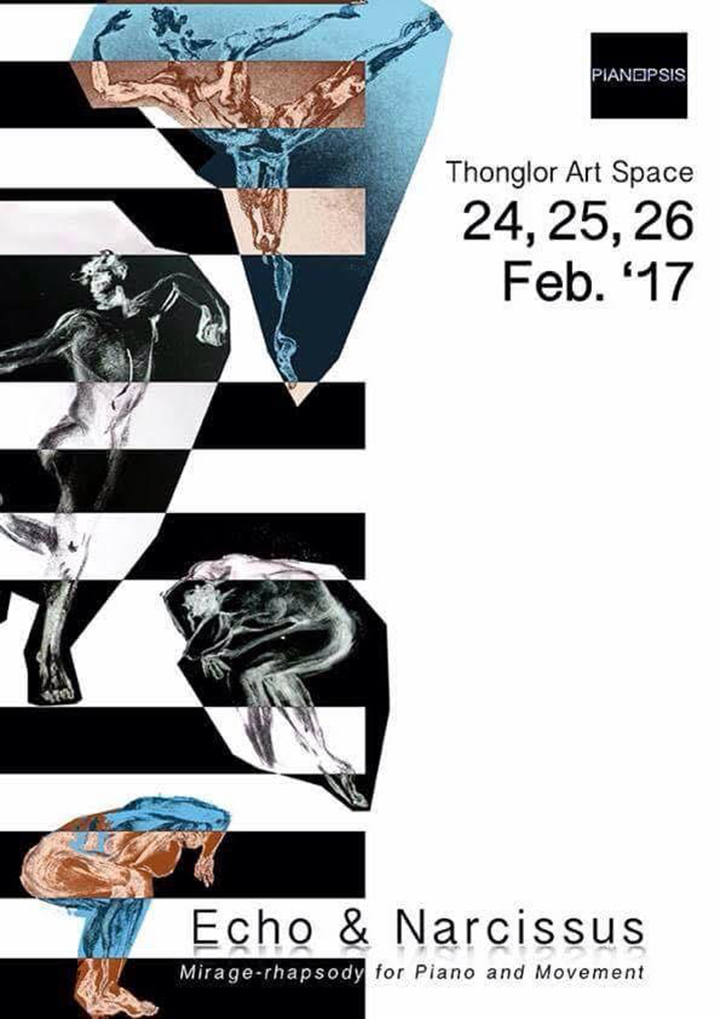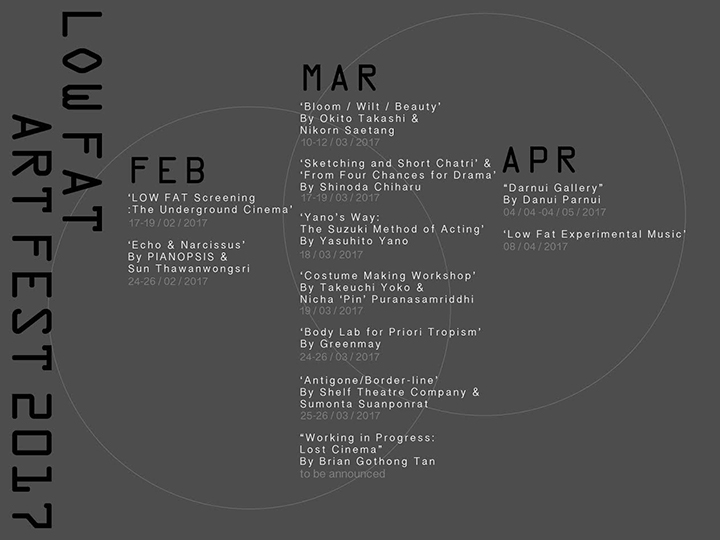 "โจนาส เดปต์" นักเปียโนมืออาชีพสัญชาติเบลเยี่ยม ที่มีโอกาสได้ร่วมงานกับนักดนตรีระดับโลกมาแล้วมากมายจาก The UK Royal Academy of Dance ร่วมกับน้องสาวแท้ๆ ของเขา "เอวา เดปต์" นักออกแบบภาพเคลื่อนไหวและ "คิง สรรถวัลย์วงศ์รี" นักเต้นไทยมืออาชีพ ที่มีได้รับเชิญให้ไปแสดงมาแล้วหลายประเทศทั่วโลก ศิลปินทั้ง 3 ท่าน จะมาสร้างสรรค์performance ร่วมกันที่นี่เป็นครั้งแรกเพื่อสะท้อนเรื่องราวความรักของเสียงสะท้อน และรักแห่งภาพสะท้อนครั้งนี้ไปยังผู้ชม
มีเพียง 3 รอบการแสดงเท่านั้น
วันที่ 24 กุมภาพันธ์- 26 กุมภาพันธ์2559
ศุกร์: 20.00 น.
เสาร์-อาทิตย์: 19.00 น.
ค่าเข้าชม:
บุคคลทั่วไป : 550 บาท
ราคาโอน : 500 บาท
ลูกค้า TRUE หรือ CP (ช าระหน้างาน) : 450 บาท
นักเรียน นักศึกษา : 440 บาท
"Low Fat Art Fest presents"
A mixed-media performance by Jonas Dept, Eva Dept and Sun Tawalwongsri
24th February – 26th February 2017
"When I open my arms to you, you open yours to me. When I laugh, you smile. Even when I cry, I notice tears in your eyes. But when I speak to you, no words come back to my ears…" Narcissus
"Low Fat Art Fest" kicks off the festival presenting you the first performing art program of the season, "Echo & Narcissus", by adept pianist Jonas Dept with visual imagery by Belgian artist Eva Dept to compliment the dance movements by Sun Tawalwongsri.
"Echo & Narcissus" incorporates live piano recital with dance movements. This experimental performance retells the classic Greek mythology of Narcissus and Echo through piano recitals, graphic and choreography, melding into an encounter between music, moving images, and the
body existing in the same space at the same time.
This is the crossed-boundary collaboration between the Belgian sibling by the name "Pianopsis" consisting of Jonas Dept, a classical pianist performing with world-class musicians such as JeanMarie Rens, Ronald Zollman, Kristen Derment during his contribution in the UK Royal Academy of Dance, accompanied by his visual artist sister Eva Dept and Sun Tawalwongsri a professional physical theatre performer with a decade experience of touring abroad.
Performers:
Pianist – Jonas Dept
Visual Imagery – Eva Dept
Dancer/ Choreographer -Sun Thawanwonsri
Only 3 performances
24th Feb – 26th Feb 2017
Fri : 8.00 PM
Sat -Sun : 7.00 PM
For more information please contact:
Thong Lor Art Space
58/14-15 soi Thonglor, Sukumvit 55 Klongtan Nue, Wattana, Bangkok, 10110
Tel. +66 80-924-0002 (Wayla), +66 86-884-6254 (Harmish)