On June 5th we are hosting ARTventure; a special collection of workshops taught by people who travel and make a living out of their passions. Please RSVP as spaces are limited!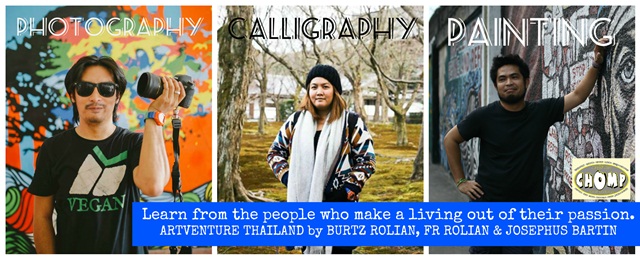 ARTventure Thailand – Photography, Calligraphy & Painting Workshops present 2 days of workshops on:
1. Basic Brush Calligraphy – 1,500THB per person
2. Acrylic Portrait Painting – 1,500THB per person
3. Photowalk Street Photography – 1,000THB per person
 About the coaching team:
Josephus Bartin – Is a Human being who is always into anything that involves Creativity, Teamwork and has Compassion.
Currently a full time Portrait Artist that does workshops and talks while travelling.
https://www.facebook.com/mindspen/
Burtz Rolian – Together with his wife, is the Man behind Blinkbox Photography, they specialize on Contemporary, Modern, Fine Art Photography, with a mix of Photojournalism and a touch of Elegant Classics, their photos are bright and lively and mostly uses only natural light to capture their pictures.
FR Rolian – Is an Applied Physics Major graduate and a Professional Photographer that fell in love with Calligraphy.
Now travels and shares her passion for the Arts.
http://www.facebook.com/mugnaph/
CHOMP The Comfort Cafe

63-65 Samsen Rd corner of Samsen Soi 1 (Thanon Lamphu)

Bangkok, Thailand

(mob) 0840988633