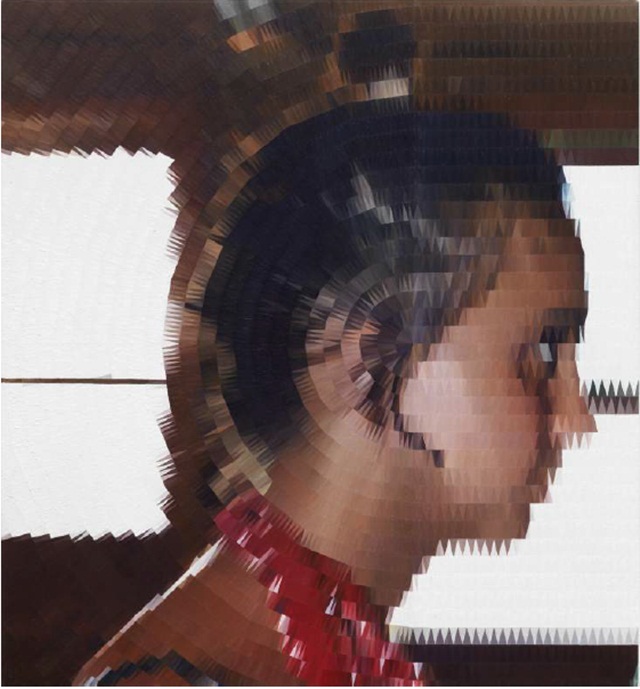 ALEX BROWN
INTERNAL EMPIRE
Opening thursday 26 may 2016, from 6pm
Exhibition from 26 may until 18 june 2016
From 26th May until 18th June, Triple V gallery will present the work of American artist
Alex Brown for the first time in Paris with the exhibition Internal Empire.
Born in 1966 in Des Moines, Iowa, Alex Brown is a painter and designer. A follower of figurative painting,
bordering on abstraction, his meticulous compositions refer to Optical Art and Pop Art.
The subjects of Alex Brown's paintings are found in the press or on the internet. He subsequently decomposes
them by applying imaginary frameworks or exaggerated pixilation, then once re-focusing the image within a
virtual composition it is realised in the most classic of media, oil paint.
Alex Brown's work has been exhibited, most notably at the MoMA PS1. It has also been shown at the galleries
Feature Inc. (New York), Blondeau F.A.S. (Geneva) and Minmin (Tokyo). His work is included in several
public collections in the US and across Europe and in 2000 he was awarded the Richard and Hinda Rosenthal
Foundation Award.
CURRENT AND UPCOMING EXHIBITIONS
John Tremblay
21 APRIL – 14 MAY 2016
TRIPLE V – 5
RUE DU MAIL
TRIPLE V –PROJECTS
Flora Moscovici – La Traversante
12 MARCH – 7 MAY 2016
Monstres et Madones
Curated by Ana Mendoza Aldana
7 MAY 2016 – MID JUNE
TRIPLE V – FAIRS
FRIEZE NEW YORK
5 – 8 MAY 2016
SERVANE MARY, LAURENT MONTARON AND PIERRE VADI
Randall's Island Park – Manhattan, United States / friezenewyork.com
PRESS CONTACT – AGENCE COMMUNIC'ART
Lindsey Marsh – lmarsh@communicart.fr
01.43.20.12.13