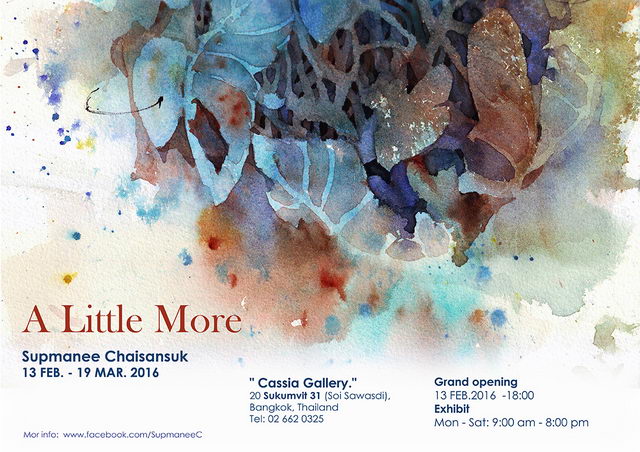 งานนิทรรศการ:  ทีละเล็กทีน้อย
ศิลปิน: ทรัพย์มณี ชัยแสนสุข 
ระยะเวลา: 13 กุมภาพันธ์ – 19 มีนาคม 2559
พิธีเปิดงาน : 13 กุมภาพันธ์ เวลา 18.00
สถานที่ : " Cassia Gallery."  , 20 สุขุมวิท 31 (ซอยสวัสดี) กรุงเทพมหานคร
เวลาเข้าชมงาน: 9.00-20.00  จันทร์ – วันอาทิตย์ 
 (https://www.facebook.com/Cassia-Cafe-and-Tea-Room-79797696576/)
Tel: 02 662 0325
ข้อมูลเพิ่มเติม: http://www.facebook.com/SupmaneeC
ทรัพย์มณี ปัจจุบันทำงานเป็นสถาปนิกชุมชน  ควบคู่ไปกับ การวาดภาพเป็นงานอดิเรก โดยใช้เทคนิคสีน้ำเป็นหลัก ผลงานส่วนใหญ่ได้มาจากความสนุกในการทดลองเทคนิคสีน้ำ จนพบรูปแบบใหม่ๆ เกิดผลงานสร้างสรรค์ในรูปแบบที่แตกต่าง.
นิทรรศการ "ทีละเล็กทีละน้อย" เกิดจากความสงสัย อยากเข้าใจธรรมชาติรอบตัว เรื่องราวต่างๆ ที่สังเกตเห็น มีรูปแบบซับซ้อนน่าค้นหา ถูกเก็บสะสมไว้ภายในทีละเล็กทีละน้อย มาเป็นแรงบันดาลใจในการสร้างสรรค์ ผลงานทั้งหมดได้แสดงออกถึงความรู้สึกหลากหลาย ทั้งประทับใจ ลึกลับ น่าค้นหา เสมือนธรรมชาตินำพาเราเข้าไปเป็นส่วนหนึ่ง จนเกิดจินตนาการไปไกลกว่าสิ่งที่เห็นอยู่ตรงหน้า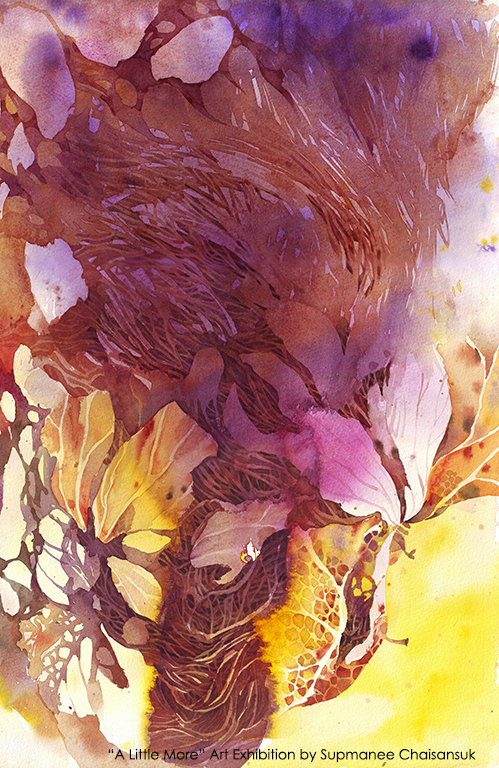 Event:  A Little More
Artist : Supmanee Chaisansuk
Date: 13  February – 19  March 2016
Opening :  13 February 2016  ,18:00 
Location : " Cassia Gallery."
20 Sukumvit 31 (Soi Sawasdi), Bangkok, Thailand
(https://www.facebook.com/Cassia-Cafe-and-Tea-Room-79797696576/)
Tel: 02 662 0325
Exhibit time:  9:00 – 20:00 Monday – Sunday
for more info : http://www.facebook.com/SupmaneeC 
 Supmanee works as an architect. Painting by watercolor technique is her main hobby. Her artwork is inspired by her enjoyment in doing experiments and experiencing new techniques in watermedia that creates her own unique style. 
"A Little More " is a solo exhibition concept resulting from skepticism and passion by comprehension in natural environments that she observed. Complicated and mysterious life that accumulates in subconsciousness which than explodes on the canvas creating her inspired art. Her art works expresses a diverse sense of natural impression and mystery that is both interesting and appealing to build a sense as if a human is a part of a nature itself. This brings even more depth to the imagination than what we physically see.