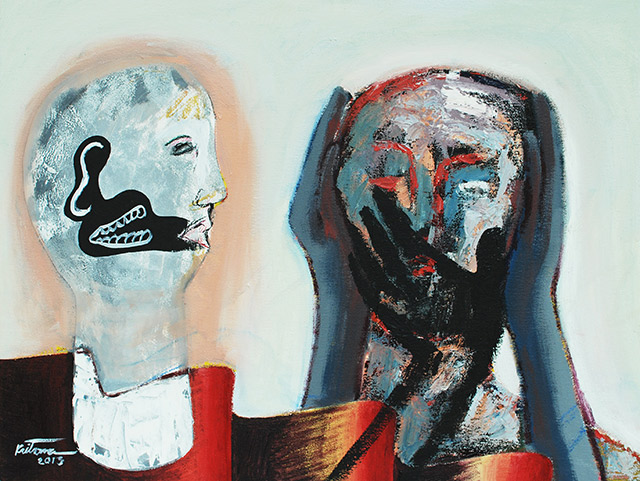 Thavibu Gallery is pleased to present the art exhibition Two Sides to Every Story — showcasing recent paintings by Kritsana Chaikitwattana.
Kritsana Chaikitwattana is one of Thailand's most thoughtful young artists. His work is concerned with dissonance – that rather disconcerting realm between fact and fiction, reality and illusion, spiritual and secular and lost and found. He does not aim to depict absolutes or ideological positions that are unassailable due to intense, impassioned, separatist, authoritarian or militant fundamentalism – one way or another – but with the places where these attitudes meet. Sometimes these encounters may result in conflict, as when ideologies collide, but at other times this is the only place where understanding can grow. This zone of contention is the tipping point, the place where change happens.
This is not an easy place to be. Even in open liberal democratic societies fundamentalism is an expression of the politics of identity that is transforming the individual's relationship with society. A discrete political grouping within a society is recognized through its different and specific cultural needs. The application of diversity politics rewards these expressions of difference with even greater recognition. The dynamic is mutually reinforcing. The more different you are, the more different you get. The politics of identity over-sensitizes people to their differences and fuels hostilities.
Chaikitwattana's recognition of the fact that there must be a place where opposites meet, however uncomfortable that might be, is the place where bonds of solidarity begin. Hope springs eternal.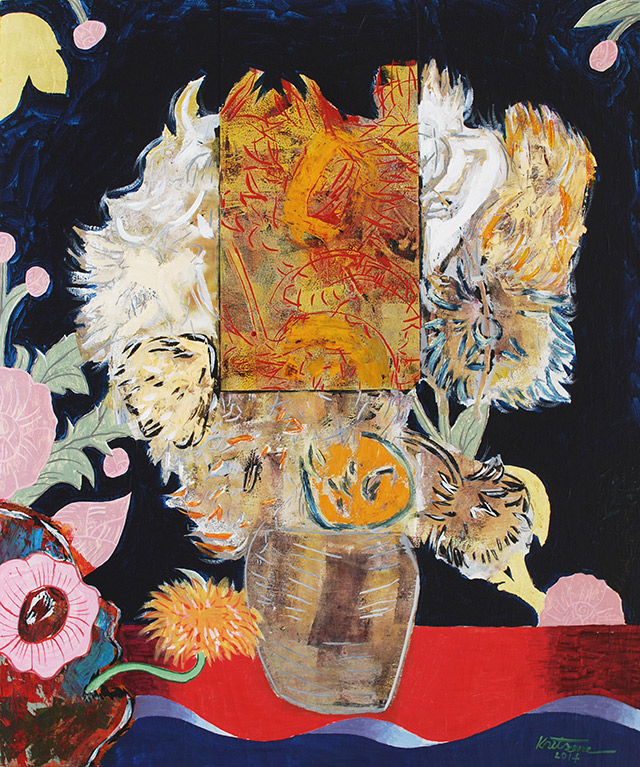 Kritsana Chaikitwattana 36, graduated with a Bachelor of Fine and Applied Arts (Painting) Degree from Silapakorn University in 1998 and completed his Master of Fine Arts (Painting) at Silpakorn University in 2002. He has exhibited widely in Thailand since 1998 when his work was included in "The Witches Stuff" curated by the late Montien Boonma. He cites Boonma as a major influence along with conceptual artists Ai Wei Wei and Joseph Kosuth and the transavantgarde artists Francesco Clemente, Enzo Cucchi and Mimmo Paladino. Like the conceptualists his work is a sustained exploration of the production and role of meaning in art, while his commitment to the expression of emotion through painting has parallels in the work of the transavantgardists. To date he has had five solo exhibitions, seven two-man exhibition and has participated in thirteen group exhibitions.
Art Exhibition : Two Sides to Every Story
Artist : Kritsana Chaikitwattana
Dates : 15 February – 15 March, 2014
Venue : Thavibu Gallery
Vernissage : Saturday 15 February 2014 at 5 pm
Curator : Jonathan Thomson
Open : Monday – Saturday: 11:00 – 19:00
The Silom Galleria Building, 4th Fl.
Suite 433, 919/1 Silom Rd.
Bangkok 10500, Thailand
Tel: 02-666-454
E-mail: info@thavibu.com