นิทรรศการสุข.รัก.ละลาย ของ ชัยพร พานิชรุทติวงศ์ ถือเป็นการกลับมาร่วมงานกันอีกครั้งกับนัมเบอร์วันแกลอรี่ หลังจากนิทรรศการ "สุกนิยม" เมื่อปี 2016 นิทรรศการสุข.รัก.ละลาย เป็นผลงานจิตกรรม สีอะคริลิคบนผ้าใบ ที่นำเสนอถึงเรื่องราว ความรัก ความสุข ไม่ว่าจะกับสิ่งของหรือสิ่งมีชีวิตก็ตามมนุษย์เรานั้นมีความสุขจากความรักในสิ่งใดสิ่งหนึ่งแตกต่างกันไป ขึ้นอยู่กับประสบการณ์ต่างๆ ที่เติบโตมาไม่ว่าการเลี้ยงดู การสั่งสอน และประสบการณ์ที่เกิดขึ้นระหว่างการดำรงชีวิตในสังคมมากระทบ จะเป็นตัวหลอมหล่อ ชีวิต ความคิด ความรัก ความชอบนั้นๆขึ้นมา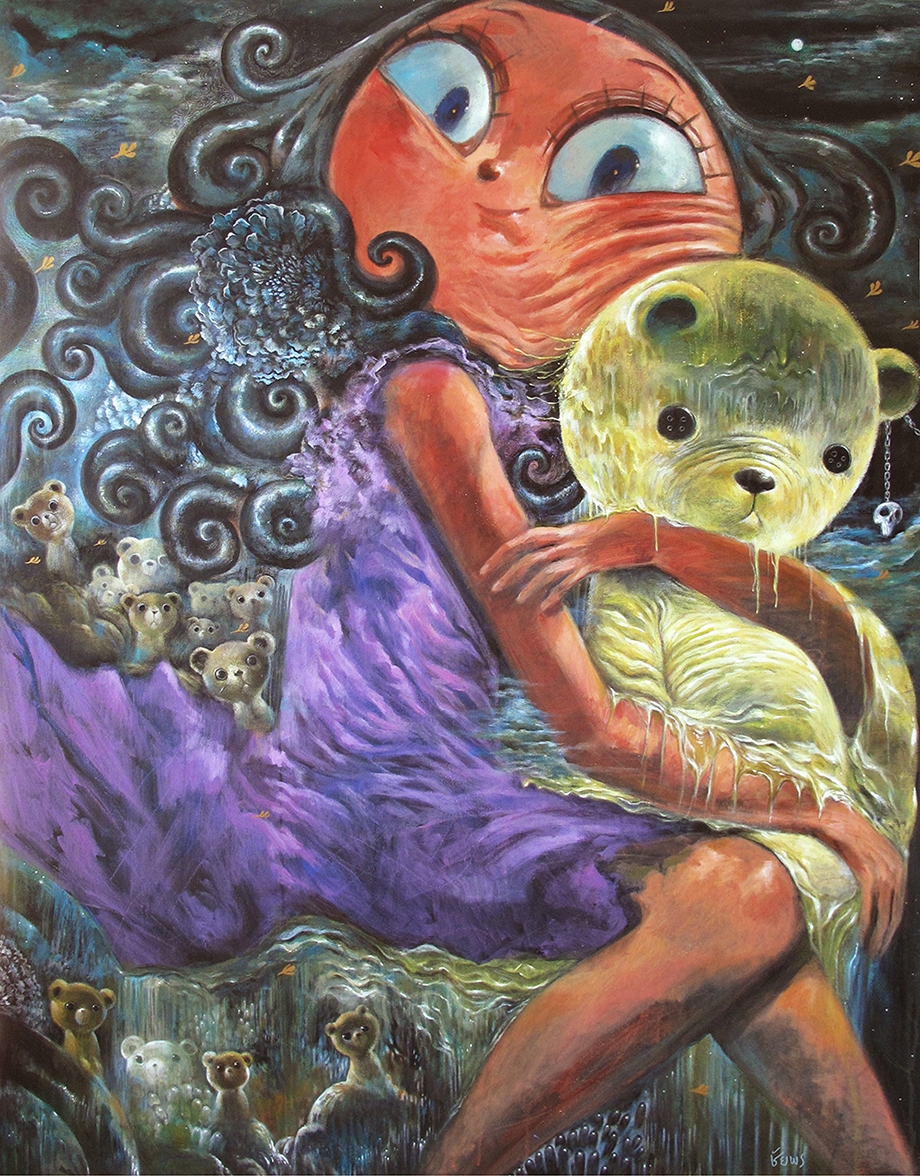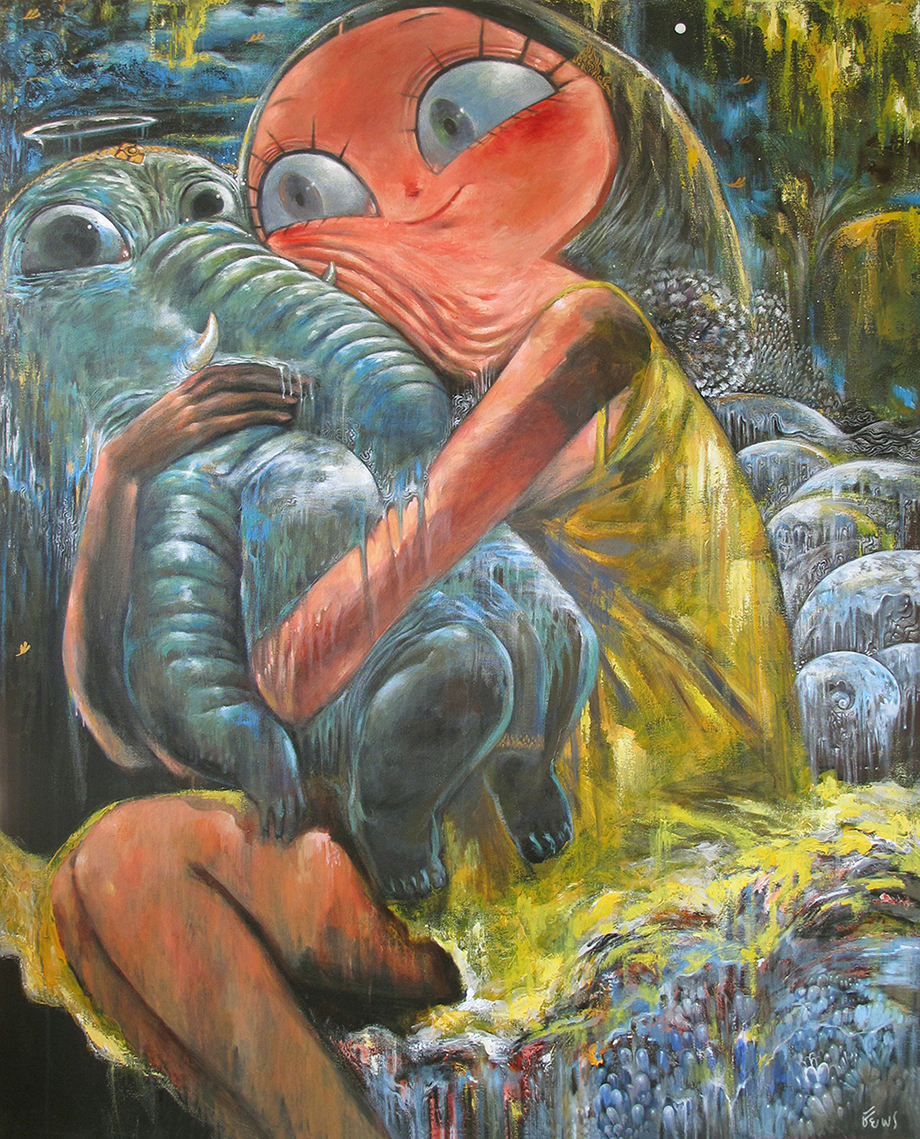 บางคนอาจจะรักชอบบางอย่างมากมายเกินกว่าที่คนส่วนใหญ่ในสังคมคิดว่าเล็กน้อยก็ได้ เช่น มีความรักและผูกพันในสิ่งของบางอย่าง ของเล่น ตัวการ์ตูน สัตว์เลี้ยง ความประทับใจมากๆในภาพยนตร์บางเรื่อง หรือ การนั่งนิ่งๆดูการไหลของนํ้า ซึ่งในห้วงอารมณ์หนึ่ง ความที่รักมาก ชอบมาก จนบางครั้งอยากละลายเข้าไปในสิ่งนั้นเลยก็ได้
พิธีเปิด : วันเสาร์ที่ 3มีนาคม 2561 เวลา 18.00
กิจกรรม : พบปะพุดคุยกับศิลปินและรับสูจิบัตร
ชัยพร พานิชรุทติวงศ์
ชัยพร พานิชรุทติวงศ์ อาจารย์หัวหน้าหลักสูตรปริญญาโท คณะดิจิทัลอาร์ต มหาวิทยาลัยรังสิต และผู้อำนวยการศูนย์อาร์เอสยู แอนิเมชั่นสำเร็จการศึกษาปริญญาตรี คณะมัณฑนศิลป์ สาขาออกแบบนิเทศศิลป์ มหาวิทยาลัยศิลปากร ก่อนจะไปศึกษาต่อระดับปริญญาโท สาขาDigital Art ที่มหาวิทยาลัยโอเรกอน สหรัฐอเมริกานอกจากนี้ศิลปินได้เป็นผู้กำกับร่วมและผู้ออกแบบตัวละครภาพยนตร์แอนิเมชั่นเรื่อง"ยักษ์" (The Giant King) และภาพยนตร์นิเมชั่นเรื่อง FEED อีกทั้งยังได้รับรางวัลตุ๊กตาทองภาพยนตร์ไทยเทคนิคพิเศษ ยักษ์ (The Giant King) และรางวัลชนะเลิศ Best Animated เทศกาลประกวดภาพยนตร์ Short Sweet Film Fest ที่ประเทศสหรัฐอเมริกา และล่าสุดได้กำกับภาพยนตร์,อาร์ตไดเร็คเตอร์ ,ผู้ออกแบบตัวละคร ภาพยนตร์แอนิเมชั่นเรื่อง "ครุฑ" ที่กำลังจะเข้าฉายในสิ้นปี 2018 รวมไปถึงผลงานทางด้านศิลปะภายในประเทศ นิทรรศการ "Yellow Sun เด็กเสื้อแดด" ปี2014 และ "สุกนิยม" เมื่อปี 2016 และในเวทีสากล AHAF hotel art fair ,Hong Kong 2012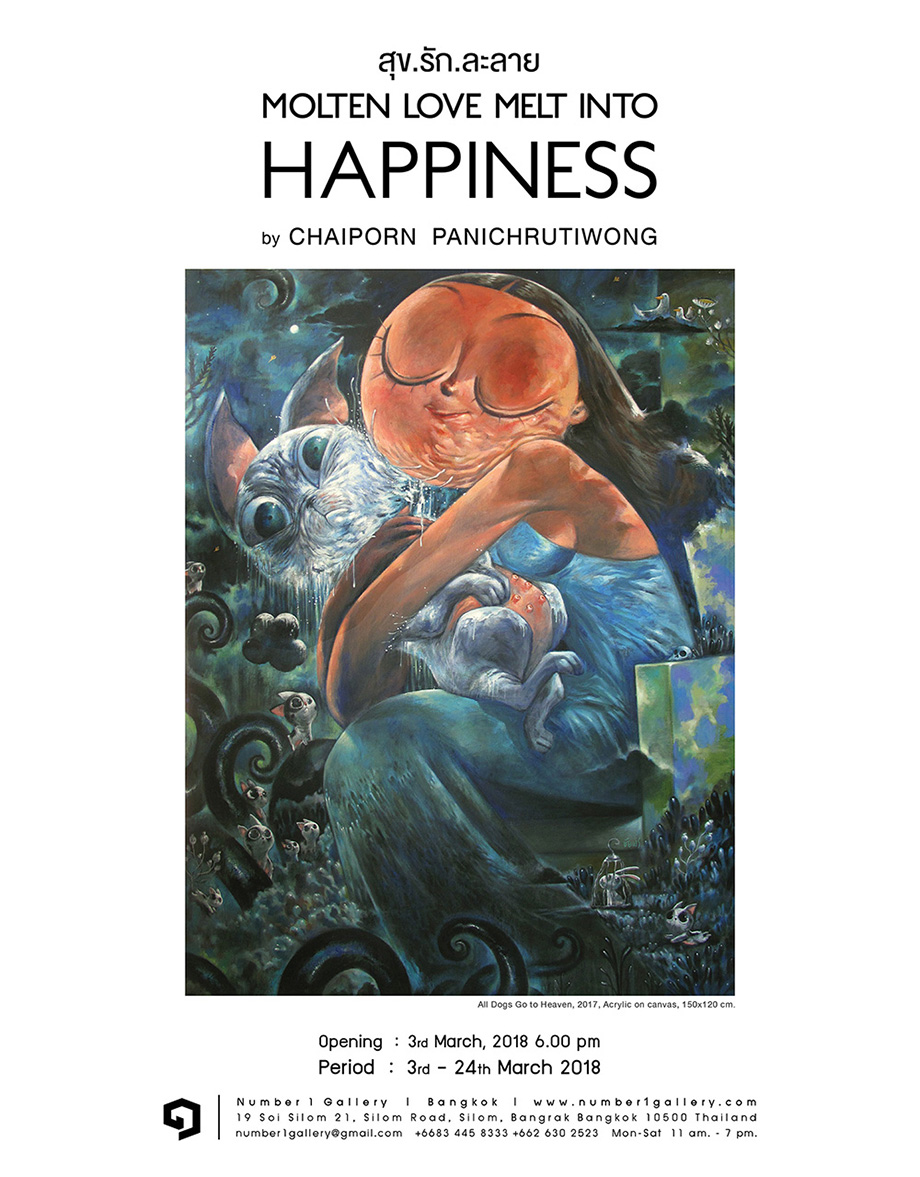 The exhibition Molten love melt into happiness of Chaiporn Panichrutiwong is a re-collaboration with Number1Gallery after the exhibition "Happiness" in 2016. The exhibition "Molten into happiness" is the acrylic on canvas style artwork that shows love and happiness whether it will be a living or non-living things.
Our happiness emanates from our own individual preferences depended on our individual growing up experiences, such as ourchildhood, upbringing or influence from living in the society. Those are elements that would liquefy into certain lives, loves and preferences. Some might love something wholeheartedly they could not disregard their intense affection toward certain things like toys, cartoon characters, pets, movies with great impacts on their emotions, or even the love of sitting still watching water flows. Such emotions can be deeply intense and canirrevocably molten into individual aesthetic reveries. Chaiporn Panichrutiwong
Chaiporn Panichrutiwong is the director of digital art program of the master degree in Rangsit University as well as the Animation program. He graduated bachelor degree in Communication Design program from Silpakorn University before continuing his study in Master degree in Digital Art at Oregon University, USA. Also, the artist was one of the director and creator of the animation "The Giant King" and the animation "FEED". He also received a Thai golden doll awards in special effects from the animation "The giant king" and winner in best animated movie in Short sweet film fest in USA. Recently, he was a movie director, art director, and character creator of the animation "Krud" that will be on the screen in the end of 2018. Also, the exhibition in Thailand such as " Yellow Sun" in 2014 and "Happiness" in 2016 and participated in AHAF hotel art fair in Hongkong in the year 2012 as his international debut.
Opening reception :Saturday 3rd March 2018
Exhibition : Molten love melt into happiness
Artist : Chaiporn Panichrutiwong
Date : Saturday 3rd March – 24th March 2018
Venues : Number1Gallery 19 Silom 21 Bangrak
Tel : 02-630-2523