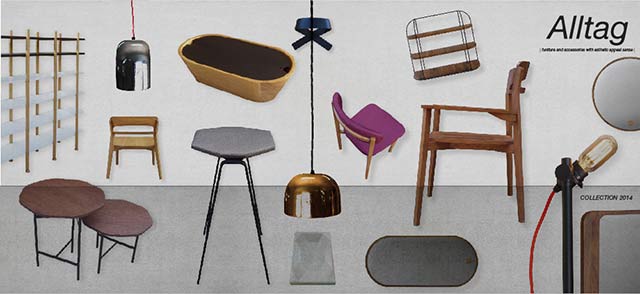 Furniture and accessories with esthetic appeal sense & Design
ALLTAG is a collaboration of young designers who are
passionate to push boundary for contemporary design.
ALLTAG launched its first collection in 2014, featuring
natural materials with simple functional and refined design.
ALLTAG has been pursuing new aspects of design with
uncompromised quality to create interiors, furniture and
accessories that and functional and inspiring
ALLTAG pays close attention to details from scratch to
production to ensure functional and aesthetic design that
support human's daily life which has been our inspiration
that keeps us inspired and motivated.
Annop & Songvuth : )

Furniture and accessories with esthetic appeal sense & Design Service
W : www.alltagdesign.com
E. : alltag.design@gmail.com
F. :facebook.com/alltagdesign
N : Annop Jareonkitpoolpol
M : +66 92 265 1300
N : songvuth manachaiyarak
M : +66 89 666 0650
WH : 199/24 Soi Romkloa 11, Romkloa Rd., Saensaep Minburi Bangkok 10510