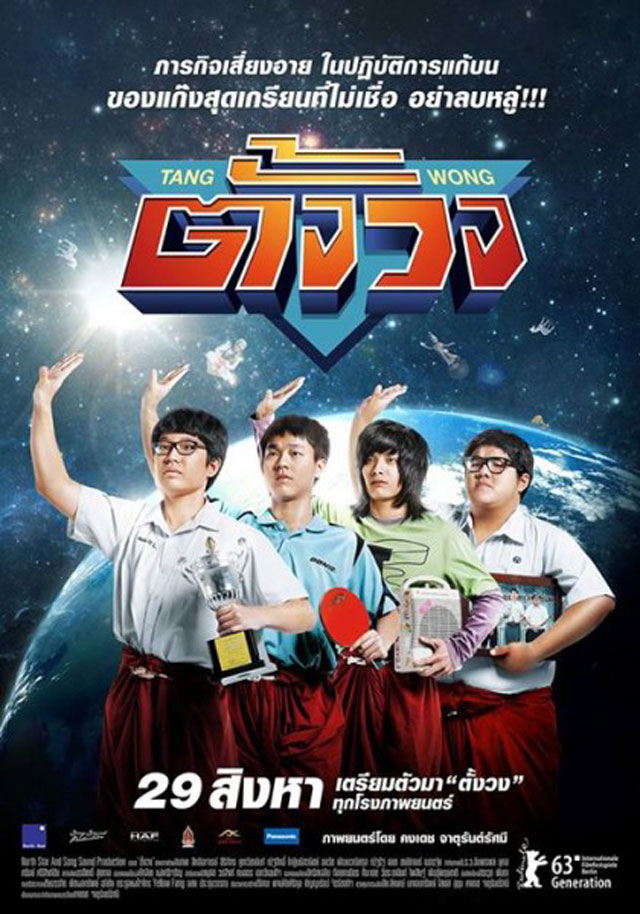 ตั้งวง เป็นหนังวัยรุ่นตลกร้าย ที่เล่าเรื่องของ การรำ โดยเน้นไปยังกลุ่มวัยรุ่นที่เป็นเด็กหนุ่มเกรียนๆ สี่คนยอง / เจ เด็กเนิรด์ประจำโรงเรียน เบส นักกีฬาผู้ไฝ่ฝันที่อยากเป็นตัวแทนโรงเรียน และ เอ็ม เด็กหนุ่มผู้หลงรักการเต้น cover เกาหลีเป็นชีวิตจิตใจ
กับความคิดมักง่ายที่จะทำภารกิจรำแก้บนโดยมี พี่นัท นางรำรับจ้างรำแก้บน เป็นผู้ฝึกสอน นำแสดงโดย เหล่านักแสดงหน้าใหม่ สมภพ สิทธิอาจารย์ , สิริภัทร คูหาวิชานันท์ , ณัฐสิทธิ์ โกฏิมนัสวนิชย์ , อนวัช พัฒนวณิชกุล , ณัฐรัฐ เลขา
Directed by prominent filmmaker Kongdej Jaturanrasamee, comedy-drama movie Tang Wong was nominated for the Glass Bear award at the Berlin International Film Festival. It was also screened at the Hong Kong Film Festival.
Tang Wong is about four students who vow at a shrine that if their wishes come true, they will perform worship dances in public.
K-pop cover dancer M (Anawat Patanawanichkul) wishes to get back together with his ex-girlfriend, while table tennis player Best (Nutthasit Kotimanuswanich) vows that he will be faithful to his girlfriend forever. Meanwhile, nerds Jay (Siripat Kuhavichanun) and Yong (Sompob Sittiajarn) ask to win first prize at a science competition.
Director: Kongdej Jaturanrasamee
Cast: Anawat Patanawanichkul, Nutthasit Kotimanuswanich, Siripat Kuhavichanun, Sompob Sittiajarn
Runtime: 86 min
Language: English
Subtitle: Thai subtitle
House Rama RCA
Showtime 29 Aug – 4 Sep 2013
13.45 / 19.30