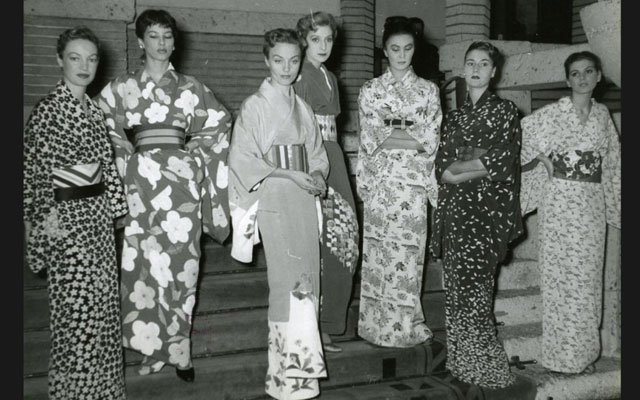 For the past ten days in Japan, the cherry trees have been covered with a clock of pink petals. It's blossoming time for the sakura-the ornamental cherry trees that have become national emblems-and the whole country is in celebratory mood.



DiorMag is celebrating the event in its own way with today's launch of its new the event in its own way with today's launch of its new version in Japanese !
Christian Dior loved gardens. Those of the houses in which he'd lived – Granville, Milly-la-Fôret, La Colle Noire – and those of the places that inspired him, such as the pathways of Versailles, the Granville rose gardens, and the cherry trees of Japan. Japan, quite rightly so, came to represent a place of promise and inspiration very early in the history of the house of Dior, admired personally by Christian Dior for its nature and culture.
And so it was that, in 1953, the Dior models made a special trip there, all the way from 30 Avenue Montaigne, in order to present one of the house's collections for the very first time in that country. That same year, Christian Dior paid homage to the flowering of the cherry trees –  sakura – creating an afternoon outfit he called "Jardin Japonais " (or Japanese Garden). Its pink fabric – one of the couturier's favorite colors – was printed with clusters of cherry blossoms. The following year, the couturier created  Rashomon, Outamaro, Tokyo – three outfits produced in Japanese jacquards. Dior's admiration for Japan has long been reciprocated. In 1959, the house of Dior was chosen by the Empress Michiko to create the three civil dresses for her wedding. Several decades later, in 1998, Japan's first Dior store opened its doors in Tokyo, followed in 2001 by Osaka. Last April, the traveling exhibition  Lady Dior as Seen By stopped off in Tokyo, as the renovated store in the city's Ginza district unveiled a new face – ultra-modern, but forever faithful to the codes of the house on Avenue Montaigne.
Today, DiorMag announces the launch of its Japanese version. And the story between Dior and Japan continues to be written, in original form.