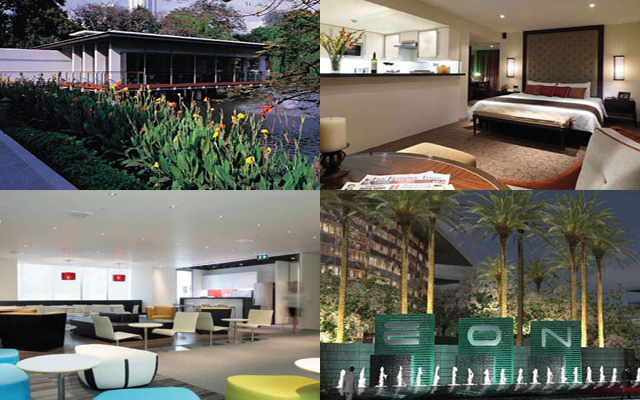 One of Thailand's most influential architecture and design firms, The Beaumont Partnership (TBP), has appointed Peter Skinner to the position of partner, as the company expands its operations in Thailand to meet escalating demand.
Highly experienced professional Peter Skinner joins The Beaumont Partnership as Partner. For high resolution image click here
Mr Skinner, who has extensive international and local experience, will be joining the management leadership and providing added strength and depth to the growing team in the Bangkok office, mentoring young Thai architects and further building on an impressive portfolio of projects that covers the commercial, hospitality and residential sectors.
TBP Chief Executive Officer Tim Beaumont said the introduction of Mr Skinner to the company would be a huge boost to everyone and important to managing a period of significant growth generated by the expanding Thai and Indochinese economies. Around the region, there existed a high demand for a level of creativity to which local designers and architects were very well suited for both local and international projects, Mr Beaumont said.
"We are delighted Peter has been appointed partner, as he brings widespread expertise, creativity and knowledge, plus is an ideal mentor for the superb young Thai architectural and design talent of the future who we are committed to training and developing," he said.
"His skill set and track record are well known in Thailand and his appointment is an integral element to TBP's continued expansion both here and in the region."
Mr Skinner's extensive experience will allow the cutting-edge projects TBP is renowned for throughout Thailand and the rest of Asia to flourish further as the country's economy continues to thrive.
Native Australian Peter Skinner, who was formerly Managing Principal of a recognised competitor, has been responsible for numerous design projects internationally and has specialist experience across feasibility/concept planning as well as architectural and interior design.
His long list of notable projects in Asia encompass the Sheraton Hotel, Hanoi, Vietnam; Park Plaza Ulaan Bataar, Mongolia; Le Meridien Bangalore, India; and the Radisson Sukhumvit Soi 13 Bangkok, Thailand, among others. Residential projects have included the Peninsula Residence, Bangkok, Thailand; Ocean Vista Residences, Phanthiet, Vietnam; the Majestic Quay residential development Perth Western Australia; and the People's Republic of China Consulate, East Perth.
Peter Skinner, who has also spent several years in London as an interior architect, will complement the team within the company's hospitality sector and will combine this with the operational stewardship of the Bangkok studio.
"I am delighted to be appointed partner at this prestigious firm," said Mr Skinner. "It's an exciting time to be part of a dynamic company that continues to expand its client base thanks to the entire team's abililty to deliver a full spectrum of integrated services and personalised solutions from conception to completion," he said.
The Beaumont Partnership prides itself on its visionary approach to design. It has already led the way in architecture in Thailand on some of the most prestigious projects to date, including the Northpoint Pattaya condominium; Ocean One Tower condominium in Pattaya, The Andaman Resort and Residences, Phang Nga, and the Lakes Condominium Bangkok.
TBP is also carving out a fine reputation as designer of the region's most cutting edge schools and academies, with standard-setting concepts for institutions including Bangkok Pattana School, Phuket International Academy, Northbridge International School in Phnom Penh, International Community School Bangkok, International School Bangkok at Nonthaburi, and the International School of Phnom Penh.
TBP also is very active in corporate social responsibility work focusing on education through The Beaumont Partnership Foundation (www.tbp-foundation.com), which is building a school in Chaiyapoom province on a 70-rai site. The company's commitment runs deeper than developing creative skills for those who have already had an education and it is committed to create opportunity at a more grass roots level.
"In Chaiyapoom, average household income is THB11,000 a month and only 41% of 15-17 years olds remain in school," added Mr Beaumont. "There is a clear need for assistance and we are very actively engaged in helping where we can with the kind support of donors."
For further information or high-resolution photography, please contact:
Yupa Chongpatiyutt
Country Manager and Partner
The Beaumont Partnership
Tel: +662 631 1860
Fax: +662 631 1849
Email: yupa.c@thebeaumonthpartnership.com
www.thebeaumontpartnership.com
David Johnson
Managing Director
Delivering Asia Communications
Tel: +662 246 1159
Mobile: +6689 170 9866
Email: dj@deliveringasia.com
www.deliveringcommunications.com
Notes to the Editor
The Beaumont Partnership is an award-winning architecture, interior design and landscaping firm based in Bangkok, specialising in the commercial, hospitality and residential industries. The company is a fully 100% Thai owned entity. Some of The Beaumont Partnership's clients include Anantara Beach Resort Morocco, Citibank, HSBC, ExxonMobil, ACE Insurance and the IT Park @ Kharadi, India.