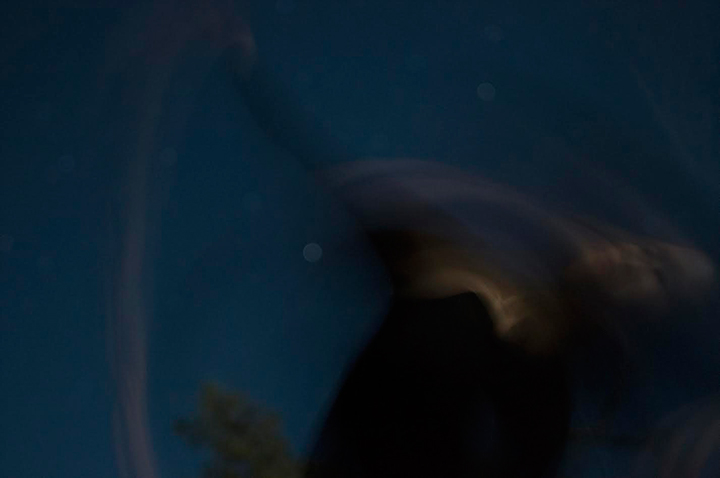 หากเราอ่อนไหวเพียงพอ และเปิดจิตเปิดใจให้มากเมื่ออยู่ต่อหน้าธรรมชาติป่าเขา เราก็จะเข้าใจและซาบซึ้งกับความทรงพลังของผลงานชุด "นางไม้" ของ เชน บุนนาค ช่างภาพและนักทำหนังอิสระ ผู้ที่เห็นและสัมผัสจิตวิญญาณของเจ้าที่อยู่เสมอ โดยเฉพาะมานี่ (Mani) 'อีสาน' ของกรีซ ซึ่งเป็นบ้านอีกหลังหนึ่งของเขา เชน จับจิตวิญญาณของสถานที่ด้วยการเปิดหน้ากล้องนานๆ และขอให้นางแบบเต้นระบำไปมาคล้ายการบูชาเจ้าที่ ผลลัพธ์ที่ได้ดูคล้ายอาการเมาเห็ดวิเศษ ที่ชาวกรีกโบราณใช้ในพิธีกรรมทางศาสนา เรารู้สึกกึ่งหลับกึ่งตื่น ไม่แน่ชัดว่าเป็นกลางวันหรือกลางคืน เราเห็นหญิงสาวในชุดกระโปรงยาวดำ เคลื่อนไหวร่ายรำเป็นเงาดำ วูบวาบไปมา ราวกับภูตพรายนางไม้ที่ไม่อาจจับต้อง บางครั้งเธออยู่ในร่างเงาอันเปลือยเปล่าเย้ายวน หรือแปลงร่างเป็นปีศาจคอยาวของจิตรกร ฟรานซิส เบคอน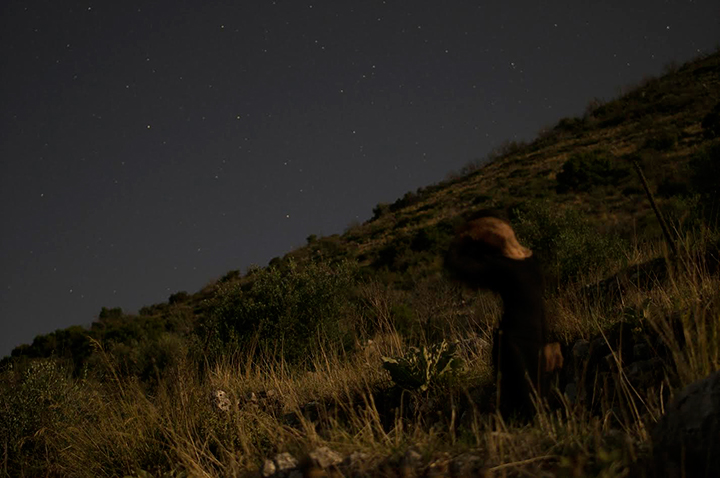 มานิต ศรีวานิชภูมิ ภัณฑารักษ์โครงการ 'จับตา': "ภาพถ่ายนางไม้ชุดนี้ ดูแล้วให้ความรู้สึกเหมือนกำลังเมายา เงานางไม้กำลังร่ายรำสอดส่ายไปมา ท่ามกลางหมู่ดาวและแสงจันทร์กระจ่างฟ้า เชนทำให้เราดื่มด่ำภาพทิวทัศน์ในมิติระดับจิตวิญญาณ มากกว่าตัวความงามของธรรมชาติป่าเขาในระดับผิวเผิน สูตรสำเร็จแบบส.ค.ส. หรือภาพการท่องเที่ยวที่เราคุ้นเคย"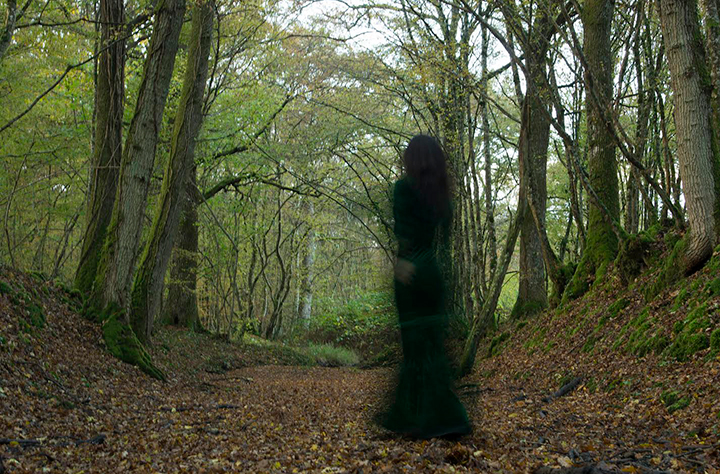 เชน บุนนาค (เกิด 2519, แคมบริดจ์, อังกฤษ)
ช่างภาพและนักทำหนังอิสระ ลูกครึ่งไทย-ไอริช เขาเติบโตที่กรีซและอังกฤษและจบปริญญาโทประวัติศาสตร์จากมหาวิทยาลัยแห่งอีดินเบิร์จ ปัจจุบันเป็นผู้สร้างหนังสารคดีและหนังแนวทดลองในประเทศไทย นางไม้คืองานแสดงเดี่ยวภาพถ่ายครั้งแรกของเขา
นิทรรศการ : นางไม้
ศิลปิน : เชน บุนนาค
วันที่ : 6 พฤษภาคม – 24 มิถุนายน 2559
สถานที่ : Kathmandu Photo Gallery
รายละเอียดเพิ่มเติมติดต่อ : 02-234-6700
อีเมล : kathmandu.bkk@gmail.com
เว็บไซต์ : www.kathmanduphotobkk.com
When viewed with sensitivity & an open heart in the presence of nature, the potency of the photographic series 'Dryopes' grows all-absorbing. The work of Shane Bunnag, photographer & independent filmmaker, reveals a soul ever in touch with the elemental spirits of place. In this instance they are the nature entities of the Mani, the fabled peninsular of Greece which had been his childhood home.
Shane captures the soul of each site through long exposure shots of his model dancing in worship of the local gods. The resulting images are hallucinatory, like the sacred mushroom visions celebrated in religious rites of ancient Greece. Half-asleep, unsure if this is day or night, we see a maiden in long black robe, a shape-shifting dancing shadow with blurred outlines, anintangible dark faerie. In another image she is naked & seductive; here she is turning into a long-necked Francis Bacon fiend.
Shane Bunnag: "The title, Dryopes, alludes to metamorphosis, the animism of antiquity while referencing a local settlement close to where most of these images were captured. Apart from one composite image, the photographs occurred in camera with no adjustments after the moment; these final Dryopes explore transformative states occurring at dusk and under the light of a few full
"This project evolved out of time spent in a mountain village in Greece, a long-lost childhood home, in early 2016. What began as an experiment became a compulsion to capture the kinetic energy of the dancer's motion as she traced out a kind of text upon the ancient landscape, revealing the patterns of life, lost epiphanies and discarded selves that we encounter in familiar places."
New Visions curator Manit Sriwanichpoom: "With these trippy images of a wood nymph dancing among stars & in bright moonlight, Shane inspires us to take pleasure in a spiritual landscape rather than merely the surface beauty of nature—an essential beauty far beyond the banal clichés of the postcard landscape."
Shane Bunnag (b 1976, Cambridge, England) is a Thai/British filmmaker and photographer based in Bangkok and Paris.
Growing up in Greece and England, he graduated MA History from the University of Edinburgh. Better known as a filmmaker
including for the Greek language feature All for Nothing (2006), Dryopes is his first solo photographic exhibition.
Exhibition : Dryopes
Artist : Shane Bunnag
Dates : 6 May – 24 June 2017
Venue : Kathmandu Photo Gallery
Tel: 02-234-6700
Email : kathmandu.bkk@gmail.com
www.kathmanduphotobkk.com
Kathmandu Photo Gallery
87 Pan road (near Indian Temple), Silom, Bangkok 10500
[Five minutes' walk from Surasak BTS]
Tel : 02-234-6700
kathmandu.bkk@gmail.com
www.kathmanduphotobkk.com
Open daily except Sunday and Monday, from 11 AM to 6 PM