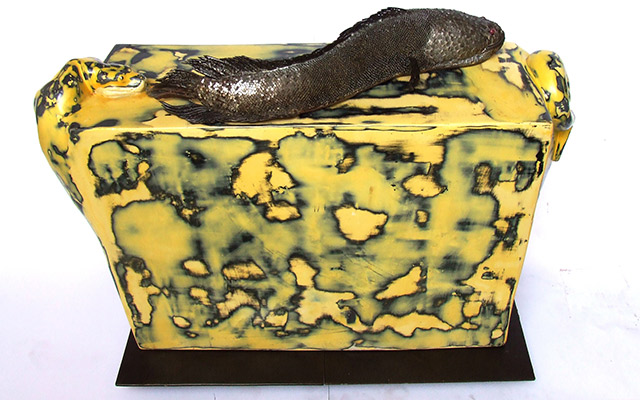 Thavibu Gallery is pleased to present the collection of sculptures in metal, resin and rubies by the Thai artist Chatchawan Amsomkid.
The inspiration behind the series of sculptures in this exhibition stems from the artist's curiosity of what is the root of corruption and the disastrous effects it has on a country and society. The snakes featured in the exhibition are symbolic of greed, the root cause of corruption, that knows no boundaries. A snake's physicality enables it to devour a prey much bigger than itself, which can be likened to endless greed and corruption that feeds it. Nail heads of various sizes and natural authentic ruby gems were incorporated in creating the sculptures, giving them a disturbingly life-like appearance. Chatchawan hopes to take his viewers on a journey of the evils of corruption and how it is a global threat. He hopes it will remind the audience on how corruption is a roadblock to economic development and that it aggravates inequality and injustice and ultimately undermines stability in all aspects of society.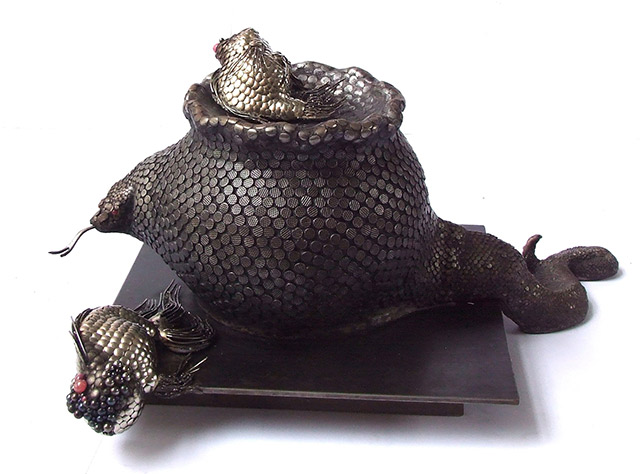 Chatchawan Amsomkid was born in 1976, graduated with a MFA from King Mongkut's Institute of Technology Ladkrabang and is currently an Associate Professor at the same institution. He was featured in several group exhibitions, as well as picking up the bronze (2007, 2009) and silver prizes (2008) in the Mixed Media category of the Annual National Exhibition of Art. He has had solo exhibitions at Thavibu Gallery in 2010 and at Jamjuree Gallery in 2011. This is his third solo exhibition.
Art Exhibition : In the Serpent's Belly
Artists : Chatchawan Amsomkid
Dates : 7 June – 5 July, 2014
Venue : Thavibu Gallery
Tel : 02-266-5454
E-mail : info@thavibu.com