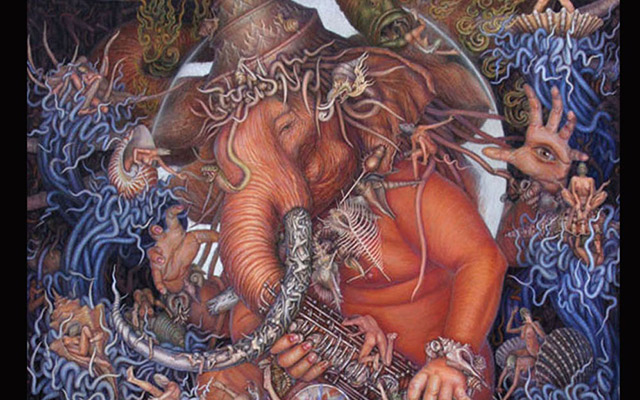 Veerachan Usahanun is one of Thailand's most esteemed artists,
admired by distinguished Asian and European art critics and collectors for his powerfully poignant paintings , including stunningly detailed fantasy portraits and infinitely intricate representations of the Hindi deity " Ganesha."
Veerachan hails from Uttaradit province in the north of Thailand. He studied at the College of Fine Arts in Bangkok before moving to Vienna, Austria, where he worked as a professional artist mentoring several of Europe's most respected members of the European art community.

Eleven years later, Veerachan returned to his homeland, and in 2000, held an exhibition of "The Fantasy Portraits" at Gaysorn Plaza in Bangkok. In 2002 , Veerachan unveiled his largest fantasy portrait to date , a four – meter – high sculpture painting titled " The Three Worlds", which was commissioned by The Private Museum of Contemporary Arts in Bangkok. The massive and intricate sculpture portrait on teakwood panels took three years to complete.
Master Veerachan then embarked on a unique series of works titled " The Miracles of Ganesha ", depicting the Hindu elephantine deity Ganesha in contemporary recreations of the god's traditional postures. The collection now numbers 17 original works on canvas and wood.
Veerachan's contemporary depictions of Ganesha are powerful, stunning, erotic and thought provoking, and have further solidified his reputation among the world's elite art collectors as one of Asia's finest living artists.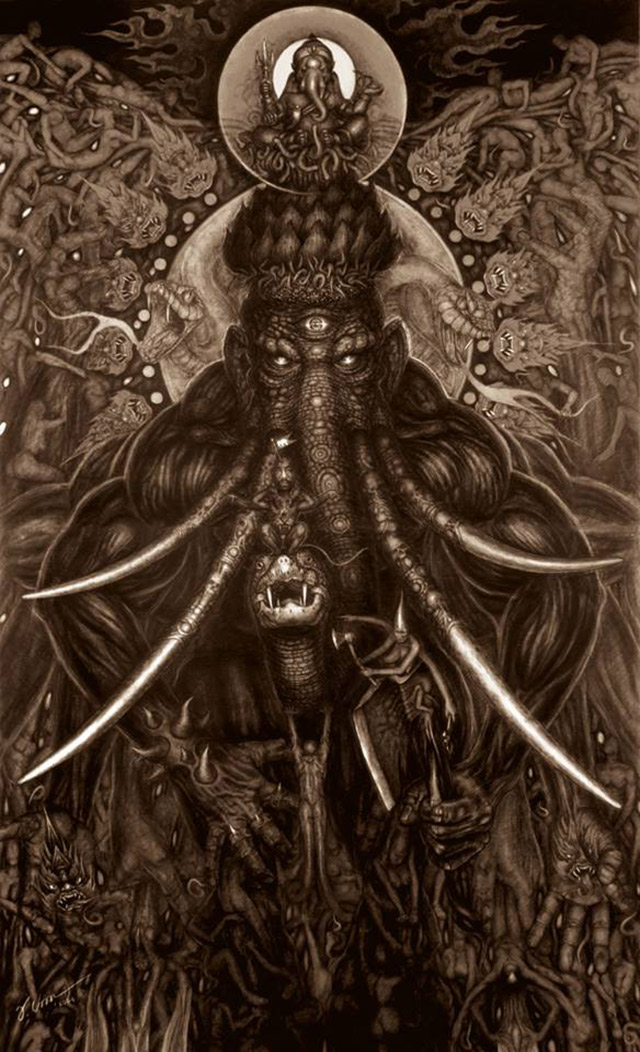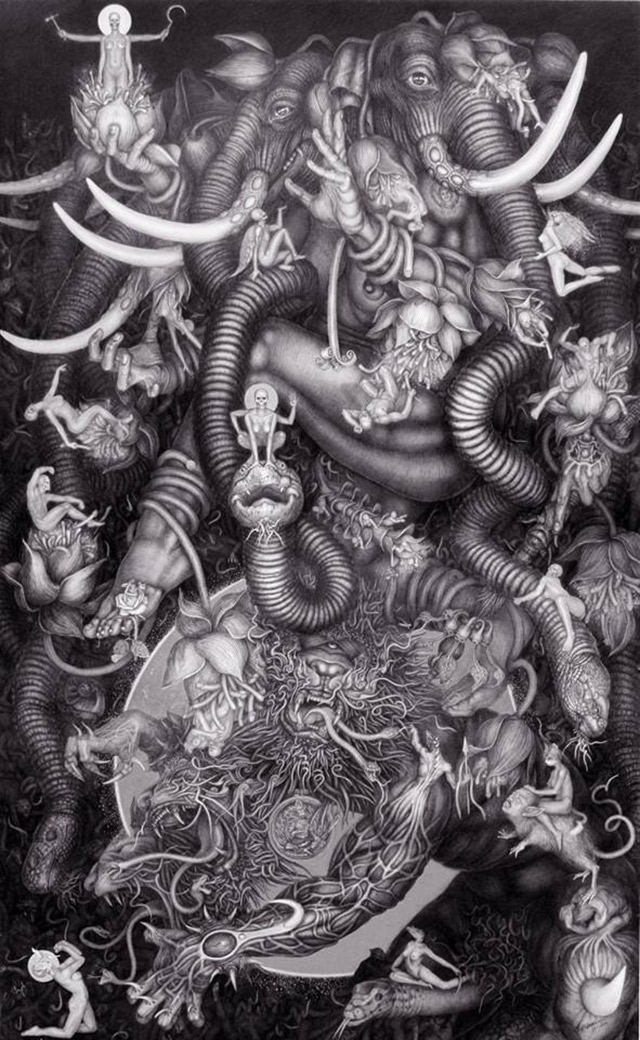 The appeal of Veerachan's works lie in the way they inspire and comfort their owners, offering new insight and answers to life's most profound questions and quandaries with each new viewing.
Veerachan's depictions of Ganesha appeal to all, regardless of any religious preconceptions, because what they depict are facets of human nature which are familiar to us all yet often suppressed.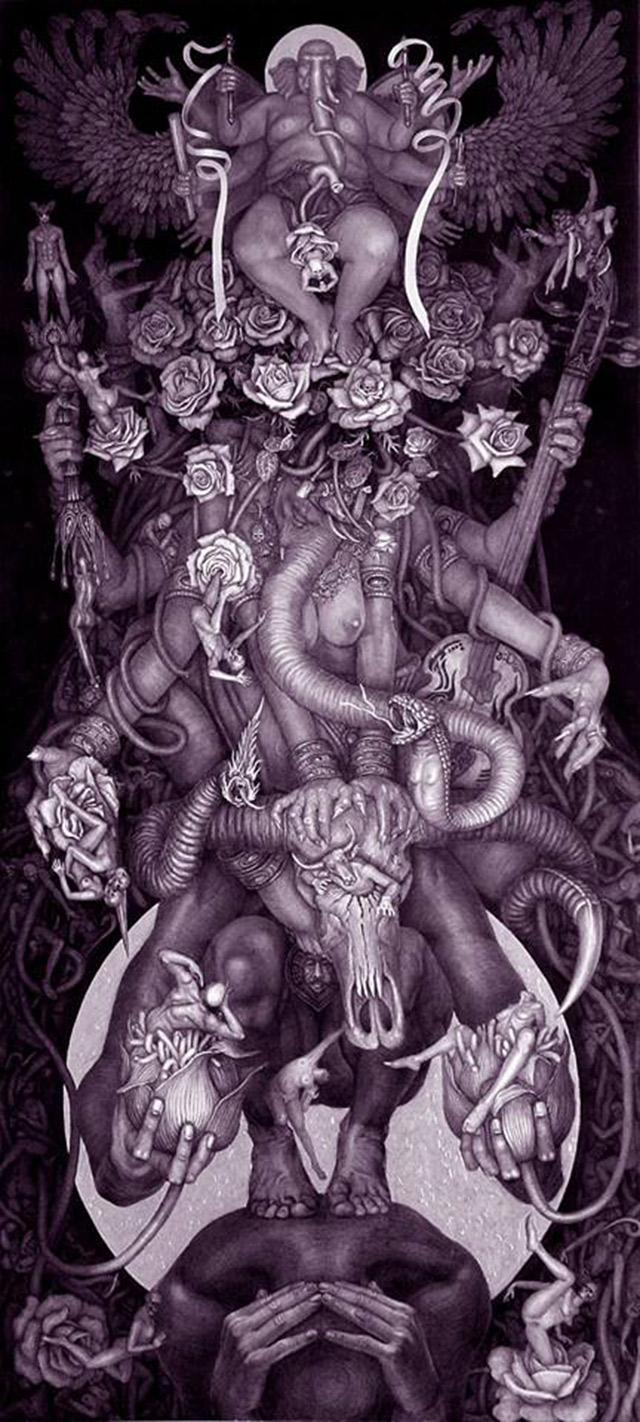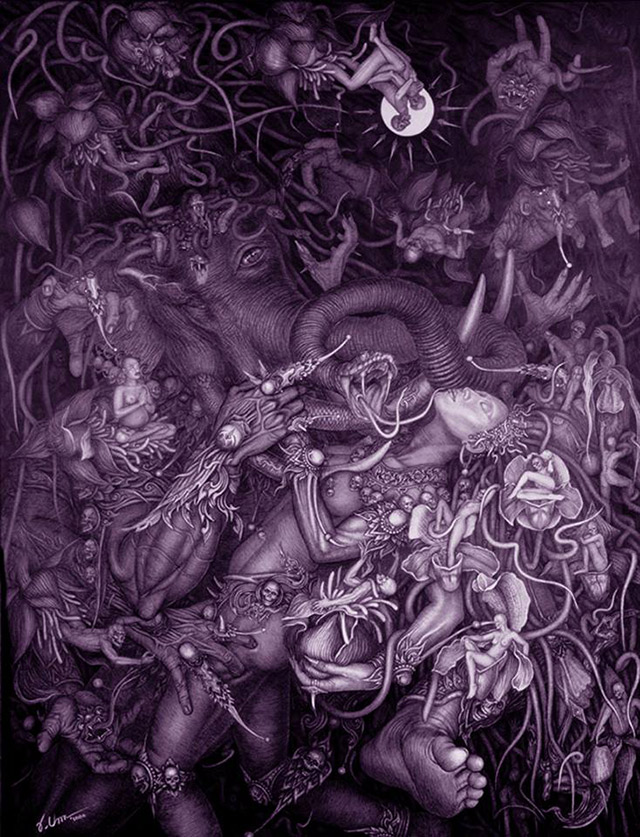 Anyone who experiences Master Veerachan's art is inspired, awed and given a new outlook on life ; however, only a fortunate few can ever claim ownership of an original by one of Asia's most significant master artists of this age.
Presently Veerachan is based in phuket, working from his studio and gallery near Bang Tao Beach, where visitors are welcome to view The Miracles of Ganesha collection and The Fantasy Portraits. Here, Veerachan draws on the inspiration offered by the sea and tropical surroundings, and continues to produce " Miracle " works of art.
"Paintings & Drawings Exhibition"
By : Veerachan Usahanun
At : Veerachan Usahanun Studio and Gallery
Bang Tao Beach Phuket Thailand
Grand Opening :Saturday 14 December 2013
5 pm. : Ganesha Blessing Ceremony
6 pm. : Grand Opening Exhibition
Now Open – Throughout 2014
Open daily : 10.00 am – 8.00 pm.
Private appointment is available: + 66-081-490-4359
E- mail : usahanun@live.com
www.VeerachanUsahanun.com