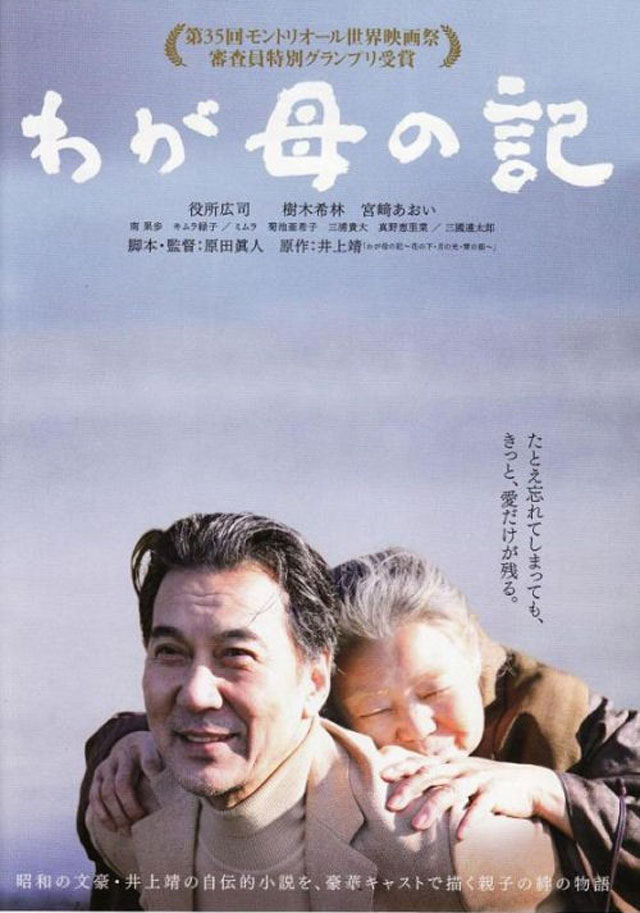 การประชันบทบาทของ 3 นักแสดงแถวหน้าของญี่ปุ่น ได้แก่ คิริน คิคิ (Tokyo Tower) โคจิ ยากุโช (Shall We Dance?) และ อาโออิ มิยาซากิ (Nana) ในหนังญี่ปุ่นที่ได้รับการจับตามองสูงที่สุดแห่งปี Chronicle of My Mother
หนังดัดแปลงมาจากนิยายกึ่งชีวประวัติของ ยาสุชิ อิโนะอุเอะ ที่พูดถึงความสัมพันธ์อันห่างเหินระหว่างเขากับแม่ และการพยายามประสานรอยร้าว รวมถึงความห่างเหิน ในช่วงบั้นปลายชีวิตของฝ่ายหลัง
โคจิ ยากุโช มารับท อิงามิ นักเขียนที่ประสบความสำเร็จอย่างสูง ที่ผูกพันกับพ่อมากกว่าแม่ หนังบอกเล่าสั้นๆ ว่า ตอนยังเด็ก แม่ทิ้งอิงามิให้ปู่เป็นคนเลี้ยง แล้วก็เลือกพาน้องชายอีก 2 คน ไปอาศัยอยู่ที่ไต้หวัน นั่นเป็นปมร้าวที่ทำให้อิงามิฝังใจว่า เขาไม่ใช่คนที่แม่เลือก
เมื่ออิงามิ โตขึ้นเป็นผู้ใหญ่วัยกลางคน แม่ (คิริน คิคิ) ก็เจอโรคความจำเสื่อมรุมเร้า อิงามิปฏิเสธที่จะกลับบ้านมาคอยดูแลปรนนิบัติ แต่ก็ทนเสียงอ้อนวอนของบรรดาน้องๆ ไม่ไหว เขาจึงหวนกลับมาบ้านเกิด และค่อยๆ รื้อฟื้นความหลัง ที่จะทำให้เขาได้มองเห็นแม่ในอีกมุมหนึ่งที่ตนไม่เคยสัมผัส
เนื้อหาที่อ่อนโยนคล้ายหนังของปรมาจารย์ยาสึจิโร โอสุ บวกกับฝีมือการกำกับของ มาซาโตะ ฮาราดะ ผู้กำกับรุ่นลายคราม ทำให้ Chronicle of My Mother มีบรรยากาศ และการเร้าอารมณ์ที่โดดเด่น แตกต่างจากหนังดราม่าทั่วไปที่มีตามท้องตลาด หนังถูกเชิญไปฉายในหลายเทศกาลระดับโลก และคว้ารางวัลมาจากเทศกาลหนังมอนทรีออลที่แคนาดา
Japanese family drama. Starring Koji Yakusho, Aoi Miyazaki, Kirin Kiki. Written and directed by Masato Harada. In Japanese with English subtitles. (Not rated. 119 minutes.)
It's fitting that the beautiful, moving Japanese family drama "Chronicle of My Mother" opens in the Bay Area the week that Donald Richie, the noted American-born critic who is credited for popularizing the films of Kurosawa, Ozu and others in the West, died in Tokyo at 88.
Director Masato Harada's adaptation of Yasushi Inoue's 1975 novel is the kind of film Richie discovered and championed in the 1950s and '60s – family turmoil with tough insights that go down gently.
Taking place between 1959 and 1973, it centers on the fractious relationship between Kosaku (Koji Yakusho, "Shall We Dance?"), an author and the tough disciplinarian of four daughters, and his aging mother (Kirin Kiki), who is sliding into dementia. But the film could just as easily have been called "Chronicle of My Daughter." Just as Kosaku has issues with his mother, Kotoko (Aoi Miyazaki), the youngest daughter, has problems with him.
Harada is especially good at directing traffic (there are about a dozen characters who are onscreen with regularity), and balances the hustle and bustle by emphasizing the surrounding nature and quiet breezes of the lush, rural settings.
The period atmosphere is inviting, and the film achieves a meditative quality that precious few modern films have.
Director: Masato Harada
Cast: Kôji Yakusho, Aoi Miyazaki, Kaho Minami
Runtime: 119 min
Language: Japanese
Subtitle: Thai and English subtitle
House Rama RCA
Showtime 28 Feb – 6 Mar 2013
12.15 / 14.30 / 19.15 / 21.30