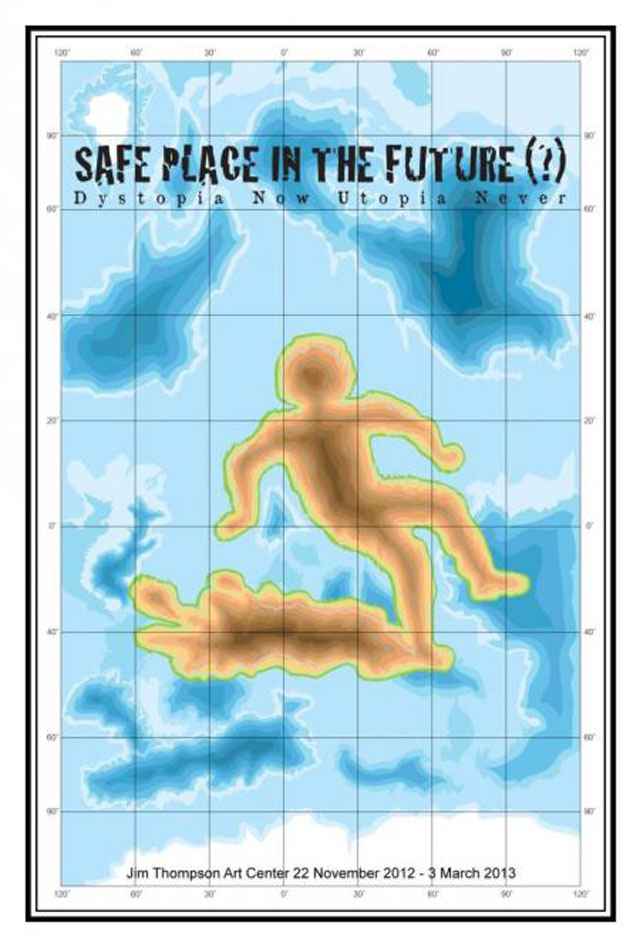 The James H W Thompson Foundation and The Jim Thompson Art Center announce the launch of the art exhibition, Safe Place in the Future (?), which was first exhibited in 2009, at VER Gallery, Bangkok.
The current version continues to coherently emphasize the artists' interpretation of core issues about the concept of 'Safe Place'. In addition to the actual exhibition, this event will include a lecture series, discussions, and film events that are intended to broaden discussion and bridge dialogues between art and social issues.
This exhibit focuses on the overwhelmingly fragile circumstance that both put the world at risk and brings about dangerous conditions. The response towards these uncomfortable conditions is re-examined and re-interpreted in various positive forms, including sculpture, interactive media, documentary films, photography and more, by the artists. All 11 local and international artists participate to show their strong visions by encouraging the interest of others in concerns about current safe issues. They call upon the viewer to raise questions and awareness. The artists seek to find ways to draw the audiences' attention to current intricately complex issues on unsafe conditions.
Fragile, insecure or unsafe conditions summon up new dialogues, and evoke ways to give an expression of hope and imagination towards finding both creative and practical ways to arrive at a 'Safe Place in the Future'. The exhibition is a compellation of conscientious artistic perspectives and interpretations on the core issue of '(un) safe place'. This message is articulated and assorted into three chapters under the themes 'dystopia now, utopia never'.
Chapter I : 'Ungovernable Power'
Three works are introduced in the first chapter, 'Ungovernable Power' is a section that focuses on the after effects from the unpredictable and unstoppable forces of natural disasters. Melancholia and a desperate atmosphere are found in Koh Sato's 'In the Sea Fog', an eight teen-minute experimental video. Sato's work is enveloped in a combination of image and story of the artist who lost his mother after the tremendous tsunami that hit Japan in March 2011. 'In the Sea Fog' evokes both personal and communal lamentation for those who lost their beloved ones during the disaster.
The underlining hazardous consequences of a natural disaster are the focus of works by other artists in a series of landscape and portrait photography. This is carried out in a collaboration between Greenpeace and the artist-photographer Robert Knott and Antoinette de Jong named 'Shadowlands'. Their photos record the extreme emissions of radioactivity. A nuclear meltdown happened after the tsunami when an aftershock had a catastrophic effect on the nuclear power plant in Fukushima. All human life in radioactive contaminated areas severely risks being genetically impaired. The series of photos, resonate both the silence and fear that resurfaced by the evacuation of all those who used to live there.
Another artistic work 'This Place is Mine' features a set of costumes created by Mella Jaarsma that are interspersed between shelters, tents and flags. 'This Place is Mine' includes digital photographs of the earthquake rubble and the places where the ruins of former households can be seen. This display calls into question the efficacy of post disaster relief, and whether institutions that give aid can actually adapt or cope with the problems. Questions arise such as: Do we replace the old or do we want to improve? Do we have the ability to improve? The artists' works also make strong comments about the ironic relationship between the various NGOs and the community they are trying to 'save'.
Chapter II : 'Invisible Structure'
'Invisible Structure' presents 4 works. The second chapter explores and concentrates on the contemporary manmade crises. This section starts with a 12 minutes video work, 'The Financial Crisis' by Superflex. The film was made to address from a therapeutic point of view, the global financial crisis and the meltdown it caused. A hypnotist invites the audience to explore a deep nightmarishly suppressed psyche to uncover the crisis outside as well as the psychosis within. During four sessions four kinds of experiences are revealed: the fascination of speculation and power; fear and anxiety; the frustration of loosing control; and finally economic loss and personal disaster. Financial instability as a personal trouble does not only affect one's personality, but also little by little it reveals suppressed anxiety and disparity. In this sense a 'safe place' can also be an internal space in people's mind. This space is a desirable safe place where one is protected from unpredictability and free from any kind of burden. At some level one needs to be emancipated from the instability of a global economic system.
As an alternative, living self-sustainably using economic self-sufficiency can benefit small local households. Pisut Srimhok's 'Huai Hin Dum', an approximately one-hour documentary film, not only records the relationship between P'wo Karens villagers and the hillside cropping area, but the film also focuses on the reiterated misconceptions of bureaucrats who create a pigeonhole definition of "hill tribe". Such definition is the main cause for the hill tribes to be considered as those who ruin natural resource. The film helps to refute prevalent misconceptions about hill tribe villagers. The film can also be regarded as a sophisticated example of media being used as a tool for the sharing and dissemination of the director's experiences after having spent a year shooting the film. As the artist has been actively involved in a close-knit relationship with 'marginal people', 'Huai Hin Dum' is presented in a close, engaging way that includes participant observations.
Another work, the photomontage 'Dialogues on Discrepancy' by Piyasak Ausap comprises the superimpositions and coexistence of images shot by the artist himself. Piyasak overlaps and reconnects daily calamity in Thailand springing from violence in the south as juxtaposed to the political crackdown in central metropolis areas in May 2010. In 'Dialogues on Discrepancy' the separate and little known incidents of day-by-day assaults all over Thailand are converged into a single image. This helps to delineate an eroding borderline that divides the perceived and reconstructed truth embedded in photographic media. Consequently, the reliability and truthfulness of photo-media has come into question. In conclusion, this artwork articulates the impact of freedom of expression which underlies liberal democratic society.
Using similar participative observations as those employed by Pisut, in his work 'Glance Left and Right' Pattara Chanruechachai collects daily newspapers. He prints the images of deserted buildings found in the suburbs and pastes them onto canvas. His work analyzes and criticizes the current urban condition where deterioration and regeneration of urban sprawl take place. To build a living space for humans is not only to necessitate and facilitate mankind, but to build an environment that also leads to the well-being and interweaving of interpersonal relationships among people. To a certain degree 'Glance Left and Right' not only meticulously illustrates the chaotic and intricate development of current urban fabrication, but the work also leads to relevant considerations on desirable living conditions. At some point, pleasantly built environments for living are vital to the livelihood of a metropolis. This leads to imaging a metropolis that embraces both the interrelations and dynamic spirit of urban life.
Chapter III : 'New Hope'
'New Hope' showcases 4 works, the last chapter highlights alternatives and imagines of future co-habitation. Thasnai Sethaseree's 'The Structure of Fear' is a quasi social research project in collaboration with Bongkoch I-soonthanaset and Mute Mute Studio. The artist applies social interconnection and information dissemination into a cyber community. Thasnai surveyed and accumulated information that engenders people to undertake vigilant observations of current global issues, ranging from phobia, plague, crime, warfare to toxic contamination, etc. Besides raising issues of social mobility and surveillance of disturbing crises, 'The Structure of Fear' exemplifies all invisible factors that block mankind's pursuit to maintain 'safe' places. 'The Structure of Fear' calls upon the audience to collaborate with the artist to review the continuous torrent of negative events through the exchange of opinion. The viewer is asked to focus on a dialogue that hovers between real and cyberspace.
Another of the works 'Kolam' is a 12 minutes long experimental film by Chris Chong Chan Fui. It reflects upon the communal endeavors of the Lampu' uk villagers of Aceh after they were traumatized by the tremendous earthquake and tsunami of 2004. In this film the viewer appreciates that learning to swim is not only self-healing because 'Kolam' also records the slow moving moments during which Indonesian children are learning to cope with the gradually rising water level. The work addresses the strong resolution that encourages solidarity among the community's members. The spirit of solidarity assists them to overcome their trauma and move on ahead to the future.
'Bangkok Adaptive City' presents the creative output of a design workshop. The work entitled '2045 – Bangkok, a vernacular metropolis, running on water' was conducted with the collaborative efforts of students of the Faculty of Architecture, Silpakorn University, and was supervised by the leading Dutch architecture firm MVRDV and vanBergenKolpa. The result was the development of diverse design strategies that lead to practical solutions. Among the many solutions, there were illustrated scenarios taking place during the next three decades with diverse future living conditions that cope with daily high and low tides. Based on statistics, the future models of living with fluctuating waterscapes are navigated by research based on speculation. Also, much historical and hydrological research on 'pre-flood', 'flood' and 'post-flood' circumstances was required. All together, a discernible vision of the future can motivate us to imagine the consequences of flooding and find suitable strategies to cope and live comfortably with water.
The last work in this chapter 'The Second Hand City' by Michael Lee evokes the metaphorical relationship between modern man and architecture. Exceptionally, architecture is sometimes visually consumed. Although its purpose is certainly for dwelling or physically gathering, architecture proposes a set of complexities. At present our architectural environment is designed by humans with assistance of advanced technology. Architects normally begin with the transformation of an idea and intellectual concept on the drawing board and then turn this into a tactile form. With the designs of the architect, city architecture is not an entirely impact-free construction, or a disinterested utilization of space, rather it can be conceived as regeneration of new ways of urban life.
To conclude, many of the multi-faceted problems caused by unsafe places and unsafe conditions that have existed in the past will continue to occur in the future. These unpredictable happenings have been reinterpreted by 11 artists who have instigated both individual and collective awareness on the idea of 'safe place'.
Participating Artists : SUPERFLEX (Denmark), Robert Knoth and Antoinette de Jong (The Netherlands), Mella Jaarsma (Indonesia), Michael Lee (Singapore), Chris Chong Chan Fui (Malaysia), Koh Sato (Japan), Thasnai Sethaseree (Thailand), Pattara Chanruechachai (Thailand), Pisut Srimhok (Thailand), Piyasuk Ausup (Thailand) and Bangkok Adaptive City (Thailand)
Curated by : Somsuda Piamsumrit and Worathep Akkabootara
The exhibition will be on view from 23 November 2012 to 3 March 2013, at The Jim Thompson Art Center, 9.00 a.m.-5.00 p.m.
For More Information :
Contact : The Jim Thompson Art Center
Tel. 02-612-6741, 080-117-8911 Fax 02-219-2911
Email : pr_artcenter@jimthompsonhouse.com
Site : https://www.facebook.com/permalink.php?story_fbid=549808885046384&id=9…