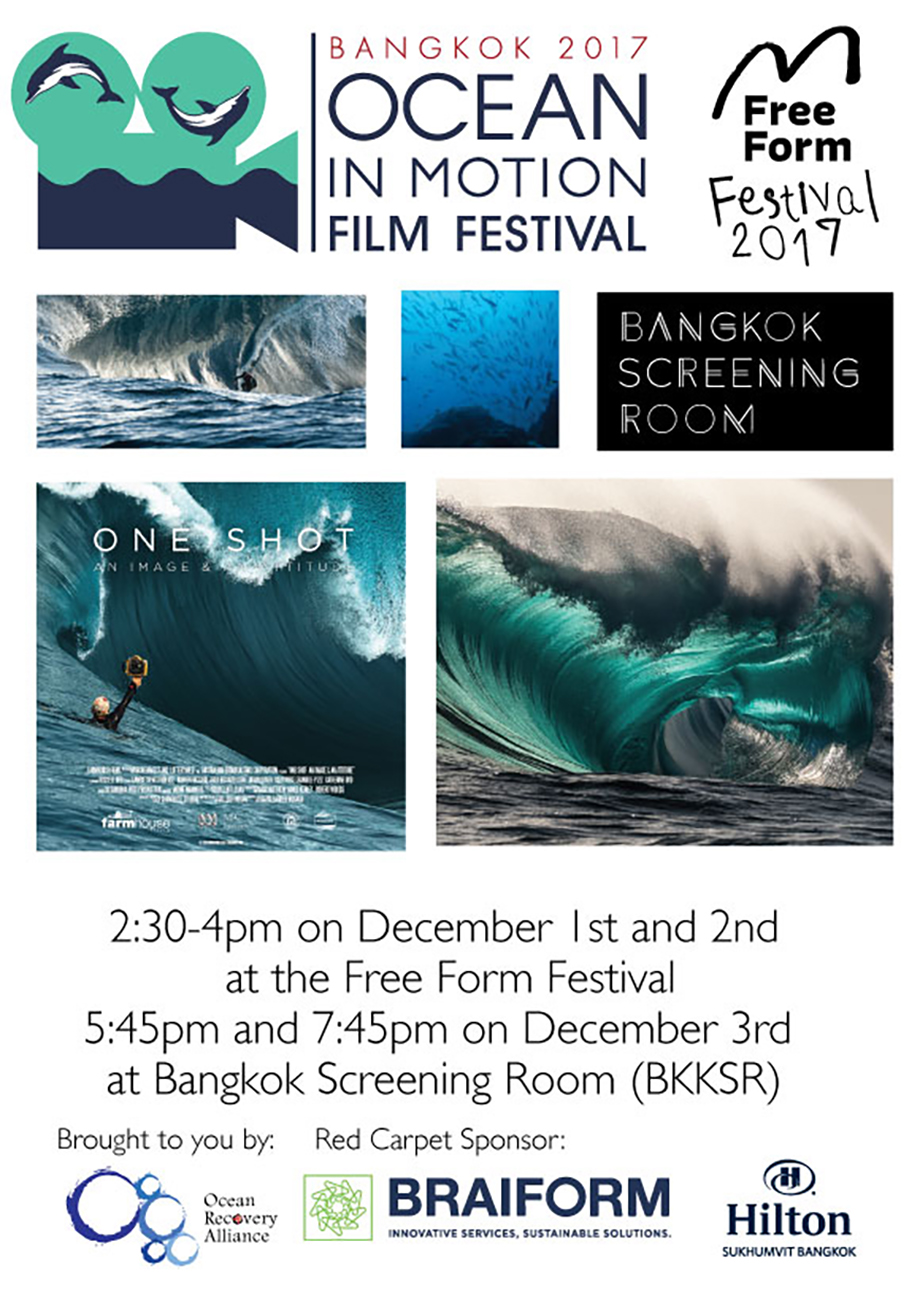 Join us for three days of the Bangkok Ocean In Motion Film Festival to enjoy some amazing ocean films that will inspire, excite, and enterain. One of the main features, among many other short films, will be a screening of the new documentary "One Shot," the life of Russell Ord, a West Australian, world renowned surf photographer as he embarks on a mission to capture 'one shot' that defines who he is. An inspiring journey about taking a chance, following your dreams and living a life without restrictions. You only get one shot at life…you have to live it as best you can. Thanks to Russell Ord for the amazing images!
The event culminate with a specially curated Ocean Experienceperformance, specially created for the Free Form Festival, which will include a live performance by Jonas Dept, who will play piano to a story about the ocean, along with clarinetist Hannelore Vermeir, currently playing with the Thailand Philharmonic Orchestra. Jonas has performed as a soloist in multiple venues and festivals including Burapha Music and Performing Arts Festival, Goethe Institut, Payap University, Low Fat Art Fest, Mahidol University, Alliance Francaise while he was also listed as official pianist for UK Royal Academy of Dance (RAD) and Imperial Ballet (ISTD), taking him to numerous countries over four continents. Thanks to Thonglor Art Space, Jonas composed his first musical "Cocktails – The Musical" with lyricist Pitch Witwisit (Band August), which was awarded BEST MUSICAL 2016 by the International Association of Theater Critics.
More information can be found on the Free Form Facebook page or on BBKSR's site. The event is brought to you by Ocean Recovery Alliance, and NGO based in Hong Kong, with Red Carpet Sponsorship from Braiform, and hotel sponsorhip from the Hilton Sukhumvit.
The Bangkok Ocean In Motion Film Festival will be on Dec. 1-3 as part of the Free Form Festival on the 1st and 2nd, and then with two screenings on Dec. 3rd at BKKSR.