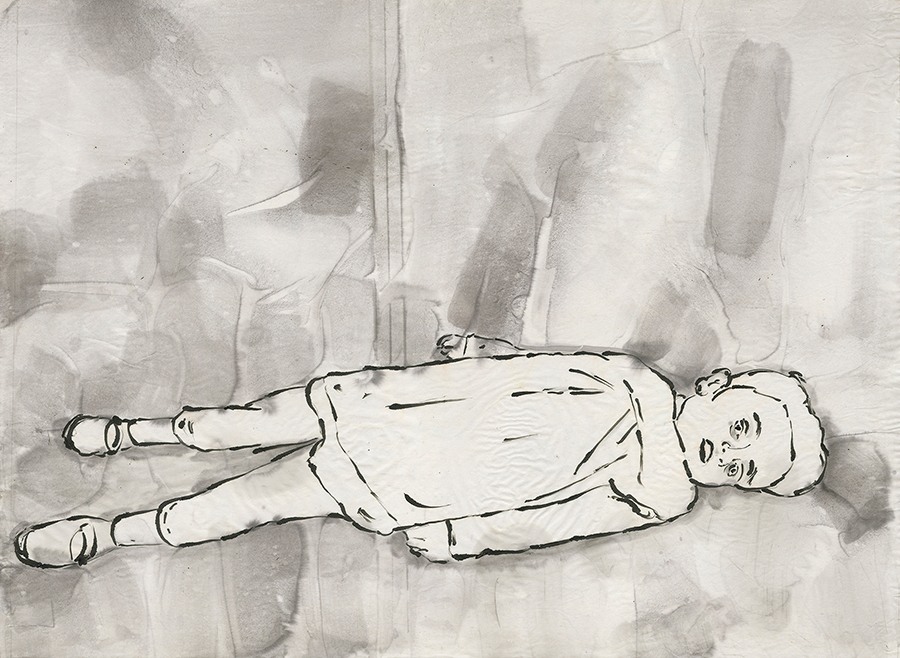 since WWII. Drawn Lines explores the fragility of the human condition while in this transitory state. The exhibition focuses on the gruelling journeys spent at sea or in land while fully exposed to perils and the natural elements. The artist's interest lies in depicting the disquiet experienced by many migrants while in prolonged and indefinite stays in makeshifts centres and camps. As well as portraying major migration routes employed in the endeavour to reach other horizons.
Drawn Lines showcases Ludmila's main interests and pursuits as an artist both in subjectmatter and technique. Expanding over two floors at Cho Why the exhibition consists of several large size watercolours on paper and a video piece. The works on paper explore migration in North Africa, the Mediterranean sea and Central America. The video uses google maps as a creative tool by tracing a walking route along the Mexico-US border. Asthe line is animated and progresses from the west to the east coast of the border. Multiple crowd-sourced images of the urban sprawl in each side are shown. The video questions the arbitrary, man-made nature of borders and the building of the proposed wall.
Drawn Lines takes place with the support of the Embassy of Mexico in Thailand.
About the Artist
Natalia Ludmila (b.1980 Mexico City) she currently lives and works in Bangkok. Drawn Lines will be her first solo show in the city. Ludmila works across painting, drawing and video. Her practice is studio based research involving the reinterpretation of images. Focusing on media generated images that depict conflict situations; investigating how these images formulate a biased and skewed view of the world by developing a us-them narrative. Ludmila holds a BVA in which she specialised in painting by the Universidad Nacional Autónoma de México (Mexico) and a Masters in Digital Design by the University of Canberra (Australia). Her work has been exhibited in several solo and group shows in Mexico, Brazil, Spain, Australia Singapore and India among other countries. She was the Second Prize recipient in the XVIII Ibiza Biennale -Ibizagrafic'- with the project dfm e.p.(Spain). In 2012 she was awarded the International Residency grant by FONCA (National Fund for Culture & Arts. Mexico) and spent three months at INSTINC Artspace in Singapore. Ludmila has exhibited in and had work commissioned by the Diego Rivera Anahucalli Museum (Mexico City). In 2014 she took part in the -The Great Collaborationproject in Singapore along with ten other artists. In the same year Ludmila was also named in The 200 top expressions of Mexican Art initiative and catalogue and had work selected for the National Landscape Biennale (Mexico). M: contact@natalialudmila.net W: http://natalialudmila.net I: n_ludmila
Exhibition: Natalia Ludmila: Drawn Lines
Artist: Natalia Ludmila
Date: 22-30 September 2017
Venue: CHO WHY, Soi Nana 17, Pom Prap Sattru Phai, CHINATOWN, Bangkok.