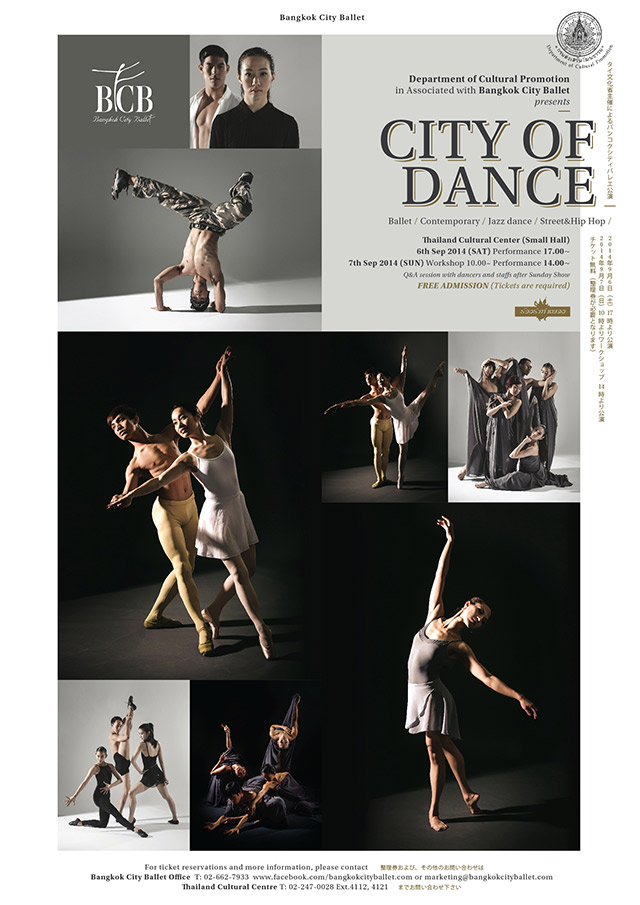 Bangkok City Ballet is going to hold a performance "City of Dance" on September 6 and 7 in Thai cultural centre, small hall.Saturday 6th September : 17:00- Performance
Sunday 7th September : 10:00- Workshop (Classic Ballet, Contemporary Dance, Hip Hop Dance)
14:00- Performance
Bangkok City Ballet is the one and only professional ballet company in Thailand. We have performed plays many programs with world-wide famous artists since 2013.
"City of Dance" of "Rong Ram Tam Pleng" project will be performed six dance pieces including classical ballet, contemporary, jazz and hip hop style.อThis is a great opportunity to enjoy professional dance performance. We are sincerely looking forward to your visiting.
Please contact us if you could attend our performance and for further information.
Tel: (+66)2-662-7933
Fax: (+66)2-662-7934
Email: info@bangkokcityballet.com
Facebook: https://www.facebook.com/bangkokcityballet