Thavibu Gallery is pleased to present the art exhibition Buffalo's Heart — showcasing photos and mosaics by Maitree Siriboon as well as a performance on the opening day.
The performance includes a video screening, as well as live Isan music and dances.
Maitree Siriboon is one of Thailand's leading young artists whose works have been shown extensively in an international context.  As a young man hailing from Isan (North-East of Thailand), his focus in this exhibition is to pay tribute to and use the imagery of the buffalo as a symbol from a cultural and historical perspective.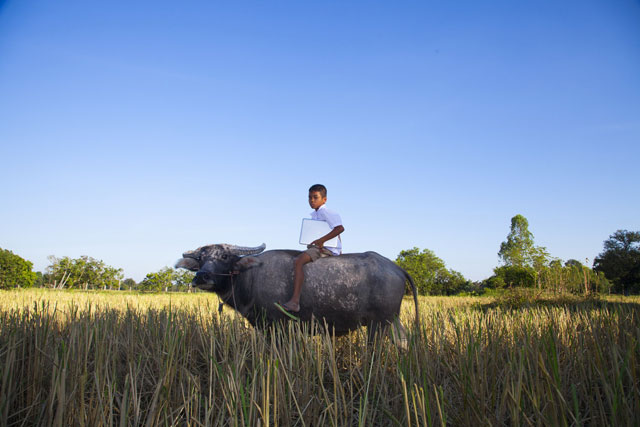 It was the buffalo through its hard work that helped build Thailand into a rice farming nation and then into the modern nation it is today. The artist says: 'Today however, we hardly see buffaloes working in the rice fields, and yet they remain one of the most respected animals in Thailand. Their numbers are decreasing rapidly, and they now have assumed new roles as a decorative item, a family pet, a source of food, and as a cultural icon for tourism purposes'. The buffalo has had lasting influences over Thai culture and beliefs and historically has represented positive attributes. However, in recent times, the buffalo has become a metaphor for many negative attitudes toward people. The word "buffalo" ("kwai" in Thai) is often applied to describe someone who is less educated, foolish, stupid, or who is difficult to train. The dichotomy of attitudes towards this important animal is a symbol of changes in Thai society.
Art Exhibition : Buffalo's Heart
Artist : Maitree Siriboon
Dates : 15 June – 13 July, 2013
Venue : Thavibu Gallery
Vernissage : Saturday 15 June at 5 pm
Curator : Pier Luigi Tazzi
Open : Monday – Saturday: 11:00 – 19:00
Tel : (66 2) 266 5454
E-mail : info@thavibu.com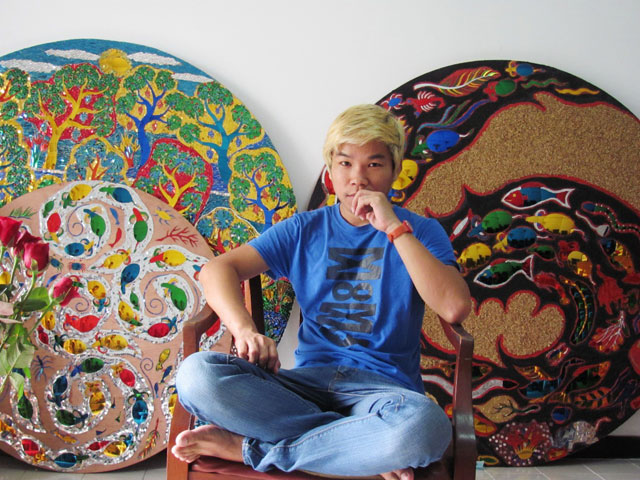 Maitree Siriboon, 30, graduated with a Bachelor of Fine Arts degree from Silapakorn University in 2006. He is a multi-talented artist who does photography, mosaic collages, installations and performances. Maitree often combines his inner childhood memories with contemporary dreams, creating a new imaginary world of  beauty using the traditional "mirror collage technique".  Apart from Thai exhibitions he has also been widely exhibited – in Laos, Singapore, France, China, United Kingdom, Cambodia, Korea, USA, Brazil, Japan, Italy, Malaysia, and the Netherlands. He has also been represented at the Biennale in France and the Triennale in China.