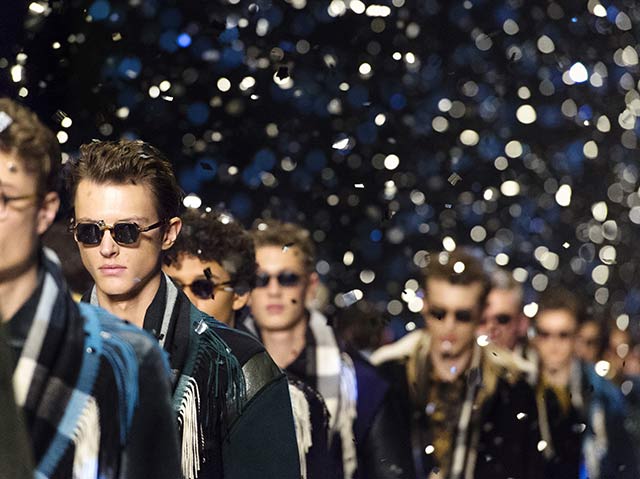 แบรนด์หรูสัญชาติอังกฤษได้เปิดเผยคอลเลคชั่นฤดู Autumn/Winter 2015 โดยได้มีการถ่ายทอดสดส่งตรงจากสวนเคนซิงตัน กรุงลอนดอน ผ่านแพลตดิจิตอลแพลตฟอร์มพร้อมกันทั่วโลก โดยคอลเลคชั่นนี้ใช้ชื่อว่า "Classically Bohemian" ที่ได้นำเอาการแต่งกายแบบผสมผสานในยุคโบฮีเมียนมาประยุกต์ โชว์เริ่มต้นขึ้นด้วยการแสดงสดของศิลปินนักร้อง/นักแต่งเพลงชาวอังกฤษ "Claire Maguire" ที่ออกมาโชว์พลังเสียงร่วมกับวงดนตรีของเธอก่อนที่เหล่าบรรดานายแบบจะเดินเรียงรายออกมาเพื่ออวดโฉมคอลเลคชั่นใหม่นี้อย่างสดใส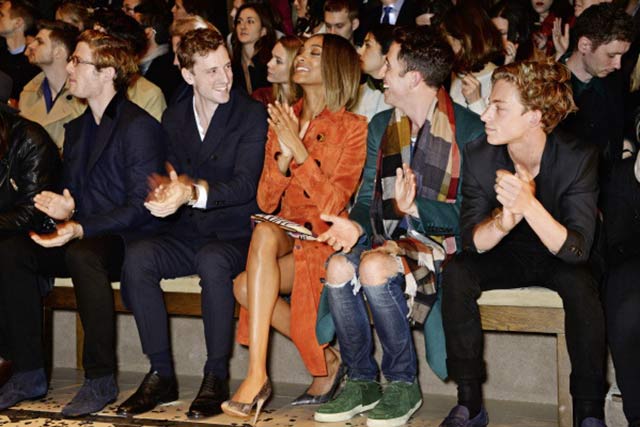 แขกที่มาร่วมชมโชว์ในครั้งนี้ล้วนแต่เป็นเหล่าบรรดานายแบบ นางแบบ และศิลปินที่มีผลงานคุ้นหน้าคุ้นตากับเบอร์เบอรี่อยู่แล้วทั้งสิ้น ได้แก่ Jourdan Dunn, George Barnett พรีเซนต์เตอร์ในแคมเปญล่าสุดของแบรนด์ James Norton, George MacKay, Edward Holcroft และ Giorgio Pasotti นักแสดงชาวอังกฤษ James Bay, Tinie Tempah นักร้องชื่อดัง รวมถึงนางแบบฮอตอย่าง Liu Wen และ David Gandy.
Burberry today showed its Prorsum Menswear Autumn/Winter 2015 collection live from London's Kensington Gardens, with a live performance from British singer-songwriter Clare Maguire,accompanied by London contemporary Voices, The Langley Sisters and her band. Guests at the show included the current faces of the brand's Spring/Summer 2015 campaign Jourdan Dunn and George Barnett; actors James Norton, George MacKay, Edward Holcroft and Giorgio Pasotti; musicians James Bay and Tinie Tempah; models Liu Wen and David Gandy; radio presenters Dermot O'Leary and Nick Grimshaw, as well as producers and filmmakers Mohammed Al Turki and Ali Mustafa. British musicians George Cosby and Tenterhook performed live as guests entered and exited the show venue.
ติดตามชมโชว์ได้ที่นี่ https://www.youtube.com/watch?v=iQ-EDRFSjl0
Collection: Classically Bohemian
เบอร์เบอรี่ขอแนะนำคอลเลคชั่นเสื้อผ้าบุรุษที่นำเอาการตัดเย็บแบบผสมผสานในแบบโบฮีเมียนและลวดลายดอกไม้ที่ทำให้คอลเลคชั่นยังคงความสดใส
THE COLLECTION
Introducing a menswear collection of bohemian layering mixed with tailoring, featuring authentic fabrics, camouflage, paisley and floral patterns.
Fabrics: Linen, corduroy, quilted cotton, shearling
Colours: Ink, green, ochre, camel, purple, charcoal, red,fuchsia, turquoise
Silhouettes: Trench coats, Chesterfields, cabans, pea coats, topcoats, quilted jackets, donkey jackets, bomber jackets, tailoring
Accessories: Introducing The Burberry Fringe Scarf, The Burberry Carryall Bag and The Burberry Scholar Eyewear Collection of opticals and sunglasses